Medical technology star rises in Chongqing
Share - WeChat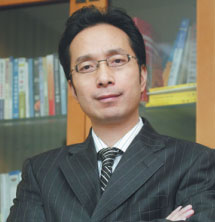 A private company in Chongqing surprised the country in 2005 by producing China's first endoscopy capsule - the second in the world after Israel.
Founded by Wang Jinshan in 1998, Chongqing Jinshan Science & Technology soon became a rising star in China's medical technology sector. It is now one of the world's top digital medical technology companies, with its new treatment model combining artificial intelligence, medical imaging and the internet.
Wang, born in Chongqing's Changshou district in 1963, enrolled in the Chinese language department of Sichuan University in 1981.
After graduation in 1985, he worked as a secretary at a local hydropower bureau. But like many young entrepreneurs who started businesses after the launch of reform and opening-up in 1978, Wang gave up his stable government job and set up an interior decoration company in 1993.
However, Wang's real business interest lay in high technology. After earning enough money from the decoration company, he founded Jinshan Science & Technology with several business partners in 1998.
He was keen to focus on micro-electromechanical systems, but because it was viewed as a high risk area for investment, his business partners opposed his decision, meaning Wang had to invest in the first phase of the project by himself, using all his 6 million yuan in savings.
His partners were later persuaded by the prospects of MEMS technology and joined him in developing the first endoscopy capsule in China.
The product proved to be a huge success. In 2006, just a year after the product hit the market, sales volume reached 100 million yuan.
With Jinshan's fourth-generation endoscopy capsule, doctors can now perform a painless gastroscope test as the light and compact capsule has an advanced image sensor with an increased viewing angle, enhanced natural toning, and more detailed imaging.
Based on its capsule technology, Jinshan has developed over 60 of the world's leading products.
"Among the 60 products, some are the first in the world and some are the first in the country," Wang, the company's president, said. "From day one, our company has only one goal - to develop the world's pioneer technology."
Jinshan's products are exported to 83 countries, mainly in Europe and North America. About 40 percent of its sales come from the overseas market.
Headquartered in Chongqing, Jinshan has a national-level engineering center in the southwestern city and research centers and offices in Beijing, Shanghai, Guangzhou, Canada, the Netherlands, the United Kingdom and Italy.
"A strong research team is the key to our success," Wang said.
The company boasts a 500-member research team, including a work station for 13 academicians from the Chinese Academy of Engineering. It invests 12 percent of its sales revenue in research every year and has attracted talented researchers from China and abroad in the past two decades.
Jinshan uses the internet to create products and services and created the country's first health and intelligent medical cooperation platform. There are now over 20 million registered users on the platform.
Jinshan plans to invest in a medical equipment research and development cluster in western China.
"This industrial cluster of medical companies will create billions of dollars in value and speed up Chongqing's medical industry," Wang said.