Training programs aim to improve quality of service and raise living standards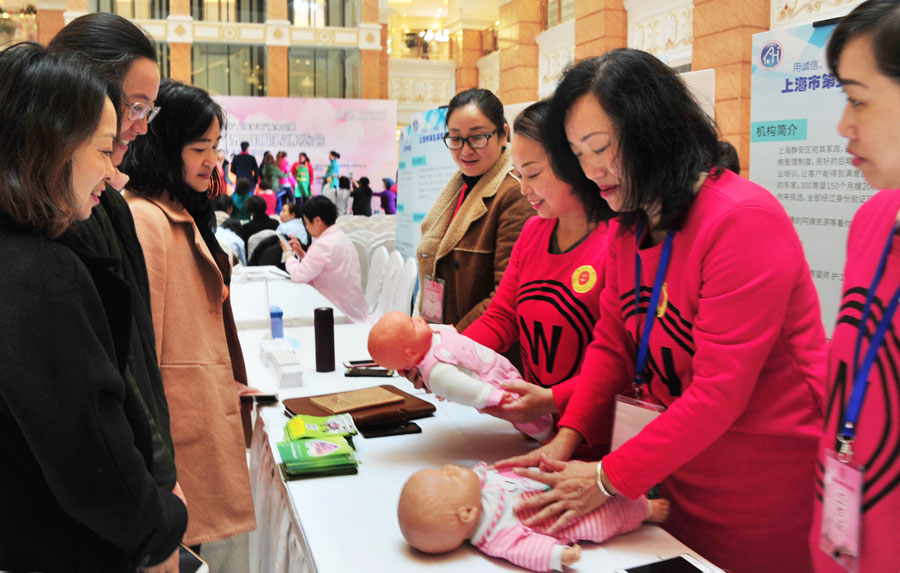 Wu Qingchun, who has worked as a live-in caregiver in Shanghai since 2014, earns 5,500 yuan ($812) a month.
The 43-year-old native of an isolated village in the southwestern province of Guizhou appreciates the job because her wages help to support her family back home, where her husband looks after their children ages 18, 16 and 14.
"What I earn in a month here is equivalent to what an average family can earn in a year in my hometown," Wu said.
Many of Wu's hometown peers have followed in her footsteps since 2017, when Shanghai launched programs to train rural women in housekeeping duties.
The programs were launched in response to a pledge by the Ministry of Commerce, which is working to lift 500,000 people from 10,000 villages out of poverty within three years. To do that, it aims to train them to work in 100 cities that urgently need domestic helpers.
Authorities believe that if one person gains employment, it can lift their entire family out of poverty.
As a pilot city, Shanghai is training women from 33 poverty-stricken areas in a number of provinces, including Guizhou and Gansu.
The program also benefits Shanghai because there is now a larger pool of workers to meet the demand for domestic helpers, according to Zhang Baoxia, secretary-general of the Shanghai Home Service Industry Association.
The association, which is responsible for poverty alleviation in Wenshan, Yunnan province, has trained more than 500 people so far.
About 100 women have secured jobs; 23 work in Shanghai, while the others are employed in the provinces of Yunnan, Guizhou and Sichuan.
"The program provides opportunities for ambitious young people to work in big cities," Zhang said, referring to the fact that most of the trainees are in their early 20s and are fresh graduates of a nursing school in Wenshan.
According to Zhu Fufei, manager of Shanghai Fuyu Housekeeping Service Co, about 600 women from Wuchuan Gelao and Miao autonomous county in northeastern Guizhou have attended the company's training course since September 2017.
The company covers most of the their fees during training, including those for medical examinations and insurance, and trainees receive a monthly salary of 3,500 yuan during an internship in Shanghai that can last up to six months, Zhu said.
Once the trainees obtain their certificates in housekeeping, the salary can rise to 8,000 yuan or even 10,000 yuan, Zhu added.
According to the Shanghai Municipal Commission of Commerce, domestic helpers are in short supply nationwide because of soaring demand resulting from China's rapidly aging population and modernization.
Data from the National Bureau of Statistics show that in 2017, China was home to 241 million people age 60 and older, accounting for 17.3 percent of the population.
In Shanghai, the situation is worse because the city has 5.4 million citizens age 60 or older, accounting for nearly one-third of its population.
In addition to the traditional skills such as laundering clothes, cooking and cleaning, domestic helpers are often required to provide rudimentary maternity care, help children with their homework and manage household budgets.
"There are very few highly qualified housekeepers in the city, although the number of domestic helpers is rising," Zhang said. "Around 70 percent of domestic helpers have no related qualifications or had any sort of training."
The city's training programs will help to provide the local market with more qualified housekeepers that meet modern industry standards, she added.