Families explore options for a stress-free Spring Festival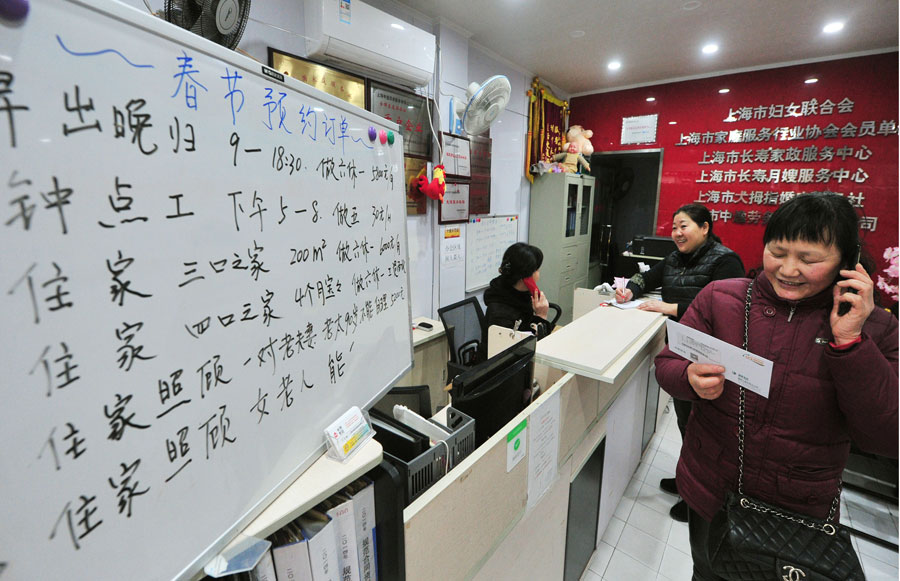 Family packages
Last year, Happy Homeland, a newly established home for seniors in the city's Minhang district, started offering "holiday gathering" packages for families in need of elderly care during Spring Festival. When Zhang decided to give it a go, he was not disappointed.
Because the facility is designed to serve senior citizens and offers various services including healthcare, fitness facilities and entertainment, Zhang said his parents feel quite at home, which is a relief for him and his siblings.
"It serves our family well for the holiday," he said.
Zhang's case is just one example of how urban families are exploring ways to cope with the seasonal shortage of caregivers and domestic help.
"Society has come to a consensus of tolerance and understanding that domestic helpers should spend Spring Festival with their families," said Zhang Baoxia, secretary-general of the home service association. "Both parties usually work out a solution well before the holiday arrives."
Xia Jun, founder of Aijun Housekeeping Service Co who also chairs a federation of housekeeping service providers that accounts for about one-third of the city's sector, confirmed that Shanghai families are not feeling the seasonal shortage as much as before.
"Over the past few years, the number of requests for new hires at the end of the year has fallen, despite the fact that the proportion of domestic helpers returning to their hometowns remains roughly the same," he said.
"It is obvious that most employers have come to terms with their domestic helpers leaving or staying for the holiday."
Travel improvements
After talking with many of his employees, Xia realized that China's increasingly interconnected and faster rail network plays a part in the agreements made between families and domestic helpers.
"The completion of many high-speed rail lines has greatly shortened journey times for many people returning to their hometowns, allowing more frequent visits. That has resulted in fewer days absent from work for each trip," he said.
Given that the majority of domestic workers in Shanghai are from nearby provinces such as Anhui, Jiangsu and Zhejiang, most of them can easily make a return trip home in a day, according to Xia.
That observation was confirmed by his peers in other cities, such as Fuzhou, capital of Fujian province, and Jinan, capital of Shandong province.
Even domestic helpers who hail from further afield have seen their journeys home become less tedious and time-consuming.
Wu Qingchun, 43, from Kaili, Guizhou province, has worked as a live-in caregiver in Shanghai since 2014. It used to take her almost two days to travel home, including 24 hours on a train. Since the completion of a high-speed line between Shanghai and Kaili, the rail journey has been cut to eight hours.
Once, Wu needed at least 10 days to make a trip home worthwhile, but now seven days is sufficient to provide quality time with her family.
Xia said, "Most families can manage without a domestic helper, especially during national holidays."
Various solutions have been found to help families in the absence of domestic workers, thanks to the efforts of various groups who have come to recognize seasonal needs.
According to Zhang Baoxia, from the association in Shanghai, during Spring Festival, housekeeping duties mainly consist of taking care of seniors or babies, with demand highest for the former.
Families with young children can easily do without babysitters during holidays by choosing to travel or visit their parents, but those who require care for the elderly or sick usually rely on outside help, she added.
To offset the impact of the seasonal shortage on those families, the association has devised a range of measures to retain many housekeepers during the holidays, and also offers other solutions to fill the gap.
Starting last year, the association teamed up with dozens of hotels and homes for seniors across Shanghai to offer affordable holiday accommodations and services for families with senior care needs.
Costly, but worth it
Zhang Cheng was one of the first to enjoy the services recommended by the association.
The help comes at a price, though. Each two-person suite at Happy Homeland costs at least 600 yuan a day, but Zhang considers it a price worth paying.
"At least we don't have to worry about cooking three meals a day, and it saves the trouble of visiting one another while celebrating the family reunion," he said.
"Moreover, we can arrange different activities such as card games, table tennis and calligraphy in the same compound. Our parents can also make friends with their peers there. It's very relaxing."
To provide a wide range of affordable options, Zhang Baoxia said the association's portfolio this year includes many budget hotels and community-based senior homes.
"The services are also available to domestic helpers who choose to stay or even bring their families to the city for the holiday," she said.
Xia took that statement with a pinch of salt. "I doubt most domestic workers would be willing to spend money on hotels, as they are very sensitive to price," he said.
"But the gesture the city has made to show that their services are appreciated, especially during the holiday season, is genuine."
Demand for domestic workers usually drops to a yearly low during the first three days of Lunar New Year when families have to pay three times the usual wage, as stipulated by the labor laws.
The main shortages usually occur before and after the holiday when most domestic helpers are still in their hometowns, Xia said.
"As long as they remain in the city, they can return to work as soon as the holiday is over," he said.
He added that the usual practice for companies that provide housekeeping services is to offer bonuses or other incentives to retain domestic workers during Spring Festival.
Wu has spent the past four Spring Festivals in Shanghai with her hometown peers.
She regards the bonus she receives from the housekeeping company, which usually ranges from 600 to 800 yuan, as an incentive to stay.
"It's not much money, but at least you feel respected," she said.
She added that she usually saves her annual leave for a visit home in July, because that's when the school summer vacation begins and her employer takes a family vacation.
"It's a pity I can't spend Spring Festival with my family, but during summer I can stay at home for around two weeks," she said. "It is good timing for me, too, as I have three school-age children."