Death toll from Brazil dam disaster hits 65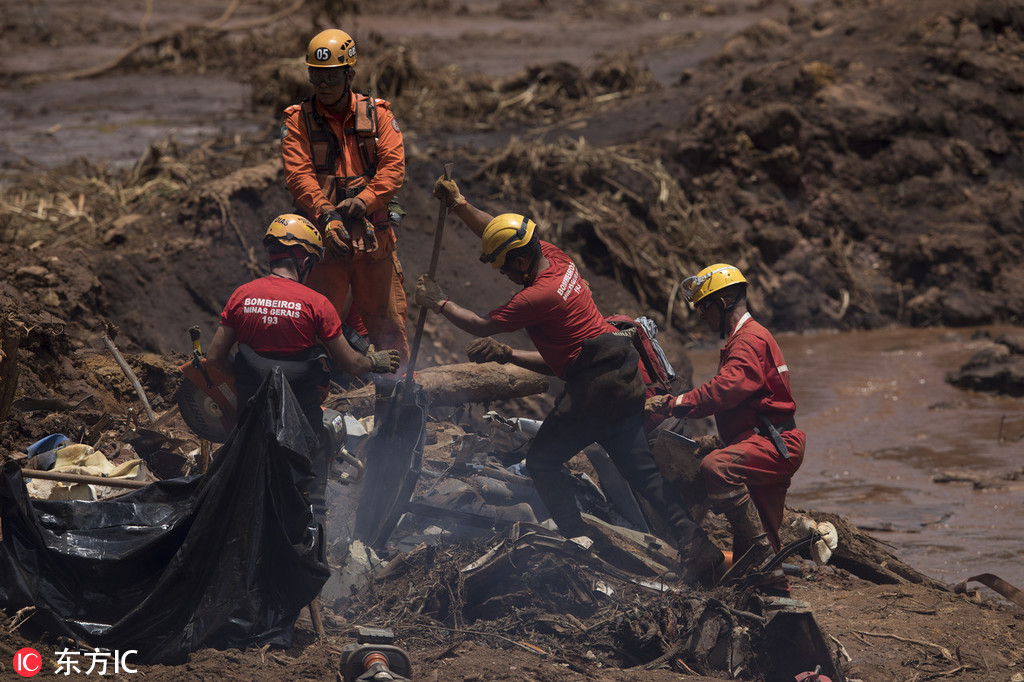 RIO DE JANEIRO - The death toll from Brazil's mining dam collapse in southeastern Minas Gerais state has reached 65, local authorities said on Monday.
Rescuers have been trying to recover bodies and search for survivors following Friday's collapse of a tailings dam in the town of Brumadinho, but three days after the humanitarian and environmental tragedy, the chances of finding people alive are remote.
About 279 people are still missing, and over half of them are employees of the mining giant Vale, which owns the iron ore mine. Some residents of the area are also unaccounted for.
A large number of employees were having lunch in a company cafeteria located just below the dam when it burst and unleashed a flow of toxic mud. Rescuers believed the flow of mud have swept the cafeteria and a local hotel away, making them difficult to be located.
A team of Israeli rescue workers arrived at the site Sunday to help. The 136-member team came with sniffer dogs and 16 tons of equipment.
Brazilian courts have frozen 11 billion reals ($2.9 billion) in Vale's assets to ensure funds are available to indemnify victims while the company's legal team has been alleging the company bears no responsibility for the dam's rupture.
However, local media have been running stories on how the company was recently allowed to increase production at the collapsed Corrego do Feijao mine.
In addition, the minutes of a meeting of the state environment secretariat in December show Vale failed to present a complete study on the impact of its expansion on the region's water resources, which include the dams at the Corrego do Feijao complex.
What's more, the Brazilian edition of online investigative site The Intercept published a story detailing how Vale omitted graphics and data from a 2017 environmental impact report that showed security flaws in the dam ran the risk of collapse.
It is the second time in just over three years that a tailings dam at a Vale-owned mining operation in Brazil has collapsed, flooding communities and fields with toxic waste.
In November 2015, a tailings dam collapsed at a mine in Mariana, also in Minas Gerais, killing 19 people and causing what was considered Brazil's worst environmental disaster. Vale was a co-owner of the mine.