Venezuela crisis highlights welfare trap
Share - WeChat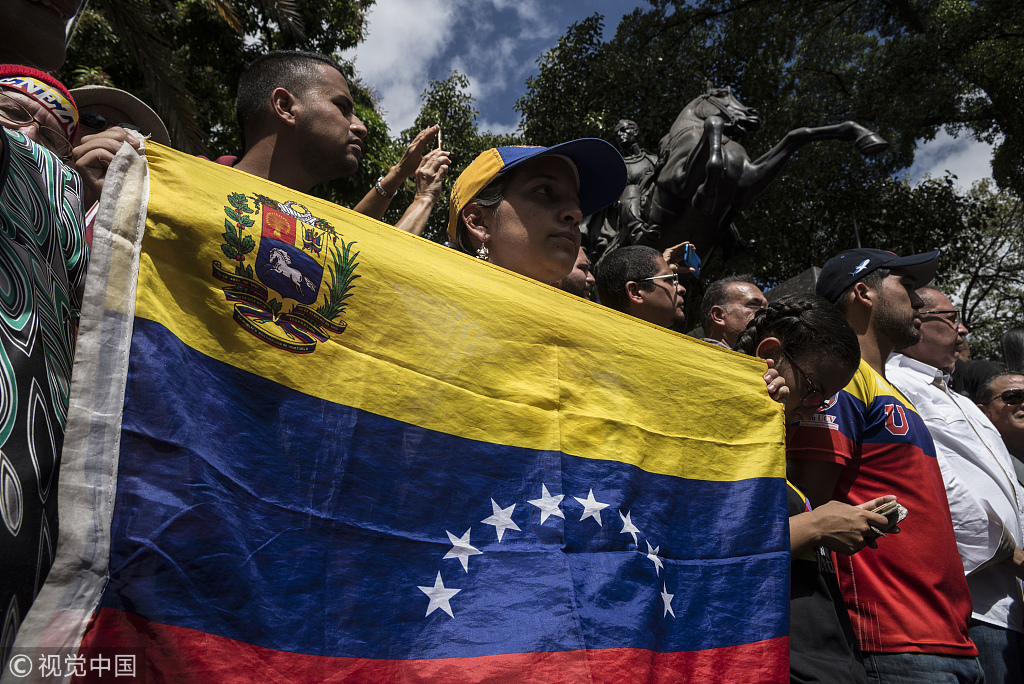 The political turmoil in Venezuela has escalated in the past few days with the United States and two Latin American countries recognizing opposition and National Assembly leader Juan Guaido as the "country's leader" after President Nicolas Maduro's government put down a military mutiny.
The root cause of Venezuela's persistent turmoil and the present crisis is its economic failure, which perhaps can be attributed to its unsustainable social welfare plans.
Reaping without sowing, even in the name of social justice, would undermine the enthusiasm of workers and squeeze investment, which otherwise could be used to sustain economic and social development.
For instance, almost all the profit from Petró-leos de Venezuela, the pillar of Venezuelan economy, is turned over to the treasury to fund welfare projects while the company struggles to upgrade its old equipment and expand production for a lack of funds. Under such circumstances, Venezuela might not be able to avoid economic bankruptcy.
China sticks to the principle of non-interference in the internal affairs of other countries, but it should learn a lesson from Venezuela's economic crisis.
Venezuela has long been called a model of "resource curse" with its GDP fluctuating wildly and suffering several slumps in the past two decades.
Besides, the country's macroeconomic management is problematic, demonstrated by its much shorter economic recovery period compared with the bull run of the oil market.
Venezuela's GDP growth soared from 2004 to peak in 2011 to $334.1 billion only to shrink to $331.5 billion the next year and drop sharply by 31 percent to $228 billion in 2013.
Noticeably, oil prices in the international market started slipping only in the second half of 2014.
Reflecting Venezuela's economic crisis, official institutions including the Central Bank of Venezuela have stopped releasing the country's data on GDP, consumer price index, government debt and other economic indicators for the past few years.
Data from the International Monetary Fund, however, show Venezuela's CPI growth rate was an unbelievable 1,660 percent in 2017.
And according to Economic Analysis, a private financial advisory agency, Venezuela's accumulated inflation rate was even higher that year: 2,735 percent. Just to give an idea of how high the inflation rate is, China's CPI growth rate remained below 3 percent between 2012 and 2017. Venezuela is suffering hyperinflation, and it was the only country with a four-digit accumulated inflation rate in 2017. These data on Venezuela may not be absolutely accurate, but they do project an overall gloomy picture of the country's economy.
Also, Venezuela's current account showed deficits of $20.36 billion in 2015, $11.20 billion in 2016 and $27.38 billion in 2017. Drastic fluctuations in the economy, massive inflation and financial and current account deficits have made the Venezuelan bolivar an almost useless currency in the global market.
Data from DolarToday, a US website that focuses on Latin American politics and finance, show the US dollar-bolivar exchange rate in the black market skyrocketed to 1-103,000 on Dec 4, 2017, from 3,100 at the beginning of that year-although the official rate has remained at 1 dollar to 9.98 bolivar.
The price difference of more than 10,000 times has not only made the official rate of no use, but also created a vast room for corruption and rent seeking.
The economic breakdown of Venezuela and other welfare states should sound the alarm for other countries.
The author is a researcher at the International Trade and Economic Cooperation Institute of the Ministry of Commerce.
Most Viewed in 24 Hours
China Views