Officials seek hate-crime charges in deadly restaurant attack
Share - WeChat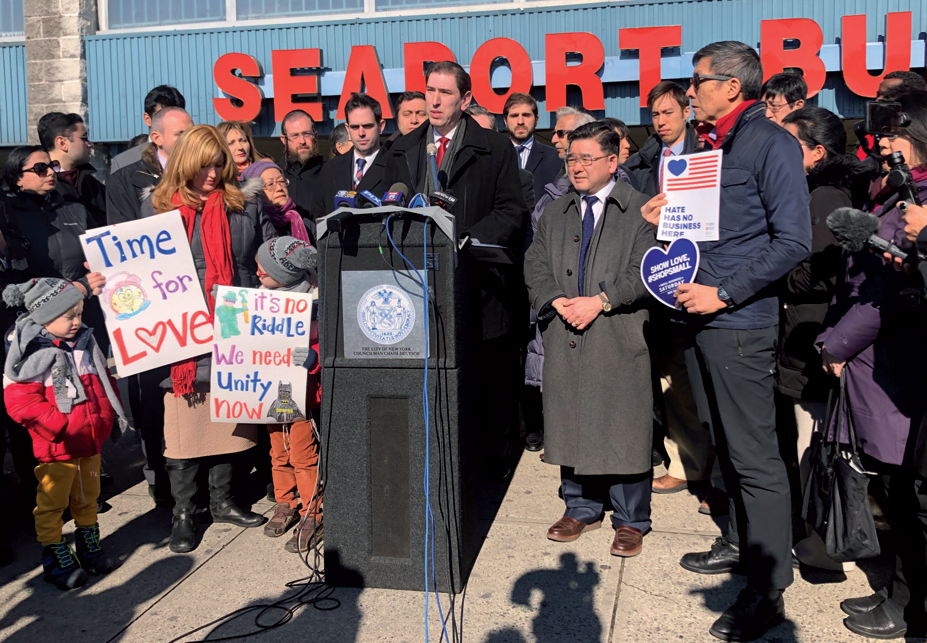 New York City elected officials, speaking at a rally on Friday, called for a triple-homicide case at a Brooklyn restaurant to be prosecuted as a hate crime.
Authorities say that on Jan 15, Brooklyn resident Arthur Martunovich, 34, wielding a hammer, killed Chinese chef Fufai Pun, 34, at the Seaport Buffet in Sheepshead Bay.
Tsz Mat Pun, 50, restaurant manager and uncle of the chef, and 60-year-old restaurant owner Kheong Ng-Thang later died in hospitals of injuries sustained in the attack at the restaurant.
Martunovich, a construction worker and immigrant from Estonia, was arrested and charged with three counts of murder and three counts of criminal possession of a weapon.
He told detectives that he was motivated to unleash the attack after watching a movie about Chinese men mistreating Chinese women, the New York Post reported, citing sources.
City Councilman Chaim Deutsch, whose district includes Sheepshead Bay, expects Martunovich to face hate crime charges. The suspect was in custody, undergoing psychiatric evaluation at Kings County Hospital.
"An attack on one is an attack on all," Deutsch said at the rally. "The perpetrator allegedly expressed vicious anti-Asian sentiments as he committed the attack."
"Let's be clear, this was a racial hate crime, plain and simple," said City Council member Margaret Chin. "I call upon our District Attorney Eric Gonzalez to prosecute these murders as a hate crime. This is a rebuke to the ugly views espoused by the attacker. We stand united today in solidarity with a community grieving."
"There is a connection between the vile, disgusting rhetoric that we hear from leaders in our country that I believe trigger and has a role in the increase of hate crimes," council member Mark Treyger said during the rally. "We definitely call upon the DA to prosecute as a hate crime, as a murder, but also send a message to folks in government to be responsible for your words and actions. It doesn't take much to trigger such horrendous, heinous crime against our people."
NYPD Chief of Detectives Dermot Shea said at an unrelated news conference Friday that the attack has been investigated as a hate crime from the start, according to the New York Post.
The attack left the three victims' families devastated, according to Sam Tsang, the vice-president of the NYPD's 61st Precinct Council, who attended the rally representing the families of victims.
"They lost their families' main incomes," said Tsang.
He said the chef, Fufai Pun, originally from Fuzhou, in East China's Fujian province, leaves behind his wife and two young children and was the sole source of income for the family.
"They don't even want to talk because they are so sad and scared," Tsang said.
A GoFundMe page was launched by friends of the victims to help the families in the short term.
The goal for the effort is $150,000, which would go toward funeral, medical and other costs for the three victims and their families, the page said.
"I can't believe this kind of attack — so cruel and disgusting — happened in this neighborhood," said Calvin Huang, who owns a Chinese bakery a few blocks away from Seaport Buffet. "I thought the community was pretty safe before the accident, but now I'm very scared, especially knowing the suspect aimed only at people of Asian descent and bypassed many other people."