10 urban areas to pilot China's 'no-waste city' plan
Share - WeChat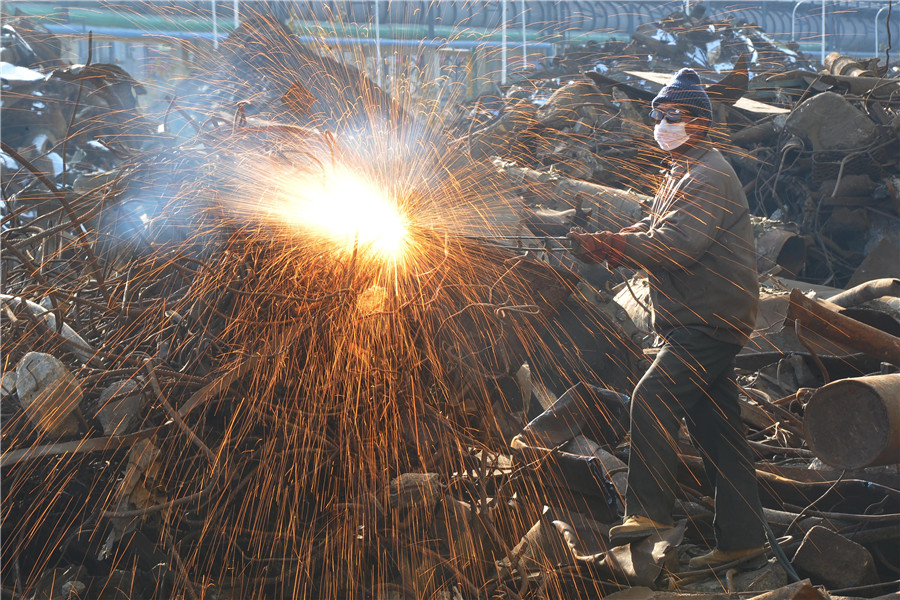 China has published an ambitious "no-waste city" pilot plan that aims to minimize solid waste generation and maximize recycling in urban areas.
After the 10-city pilot program ends in 2021, its results will be used to guide expansion of the initiative.
Experts welcomed the initiative, saying it will improve the urban living environment and encourage sustainable development. But they also urged the government to attach more importance to pollution control in waste utilization and the reduction of health risks.
Many developed countries are good at classifying their waste, they said, but lack the sound waste utilization industry needed to deal with it, meaning their waste has been piling up as China phases out waste imports.
China needs to develop its own waste utilization industry to avoid a similar scenario, they said.
Published last Monday by the State Council, China's Cabinet, the pilot plan aims for the minimum generation, maximum utilization and safe disposal of solid waste. Use of landfills will be minimized as part of efforts to reduce the environmental impact of waste.
Led by the Ministry of Ecology and Environment, six central government bodies, including the Ministry of Housing and Urban-Rural Development, will, before June, help the 10 undisclosed pilot cities to unify the data-collecting standards used by different government bodies and improve data collection approaches related to waste. Each city has also been asked to publish its specific plans by the same deadline.
The initiative vows to establish an index system for "no-waste cities" and an institutional and technical system for the management of such cities by 2020. By that time, it's estimated that the pilot cities will have made marked progress, with almost zero growth of industrial waste storage and full use of agricultural waste.
With a decrease in waste generation and an increase in its utilization, hazardous waste will be well-controlled in pilot cities and no more waste will be dumped illegally. There will also be a group of backbone waste recycling enterprises established by 2020, according to the plan.
There has been a dramatic increase in the generation of solid waste in China, and the country will completely ban the import of waste with domestic alternatives by 2020.
The Ministry of Ecology and Environment said China, with the largest population in the world, is also the biggest generator of solid waste. With a stockpile of 60 billion to 70 billion metric tons, the country generates 10 billion tons of new solid waste every year.
"The initiative will accelerate progress to address the lingering pollution from solid waste, which will help better people's lives with a continuously improving urban ecological environment," Li Ganjie, minister of ecology and environment, wrote in an article published on the ministry's website on Wednesday.
Li also vowed to introduce preferential tax policies and encourage financial institutions to offer funding support to promote the development of recycling industry in the pilot cities.
Jiang Jianguo, a professor at Tsinghua University's School of Environment, said a sound waste utilization industry is needed to absorb and convert waste into new products after classification. Cost, however, could be one factor hindering the industry's development.
The cost of recycling some varieties of waste could be higher than the cost of incinerating them for power generation, he said. Meanwhile, price fluctuations may sometimes make the recycling of some waste unprofitable. That means strong government support is needed to ensure the sound development of the waste utilization industry, Jiang said.
The work of recycling can be challenging, because it also needs strong supervision that covers the whole process. Pollution is likely to occur in waste recycling without strong supervision, while some hazardous waste could be used for products related to food or frequent contact, he said.
Because it is a factor in their performance evaluations, many local government officials will make great efforts to promote waste classification. But when it comes to utilization, Jiang said, the situation can be complicated, as much of the waste will leave the areas where its is generated, making management difficult.
Reports that waste has been piling up in some developed countries have made headlines since China began phasing out waste imports in 2017. Mao Da, policy consultant at the China Zero Waste Alliance, an NGO, said China should draw a lesson from these developed countries.
Without building up a complete waste utilization industry, they were not successful in developing the circular economy they had been calling for, and had just been transferring their waste to developing countries, he said.
A sound waste utilization industry was necessary to prevent this from happening in China. "The country's image will be damaged if it also transfers waste out," Mao said.
He also warned, however, that not all waste can be recycled or is suitable to be recycled.
Polyvinyl chloride, a thermoplastic, for example, is not suitable for recycling because it contains poisonous chemicals. The production of such waste should be restricted, Mao said, with efforts made to replace it with other materials.