Reviving an old sport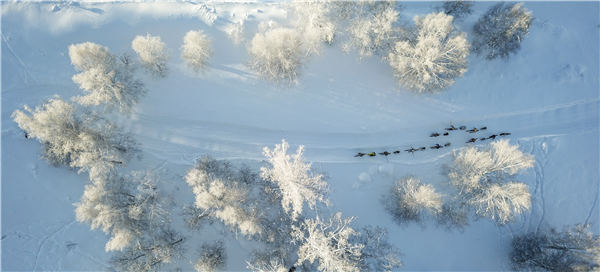 Nine herders in the Altay Mountains stepped on fur skis in Baihaba village, Habahe county, Xinjiang recently
To draw attention to fur skiing, nine herders in the Altay Mountains stepped on fur skis in Baihaba village, Habahe county, Xinjiang Uygur autonomous region recently. And it took them 11 days to cross the Altay Mountains to arrive at the General Mountain Ski Resort.
The total length of the trip was more than 300 kilometers, and one-third of the route was no man's land.
Herdsman Mamani from Hemu village, Burqin county, together with eight others climbed snow-capped mountains, crossed glaciers and deep valleys to complete the journey.
The fur skis they used were made of pine and horse fur, and the equipment features only one snow stick, cut from birch.
This origin of this equipment can be traced back to 12,000 years.
Nowadays, fur skis have evolved from traditional hunting tools to sports equipment, and are popular with tourists.
In Altay, Xinjiang, skiing events featuring fur skis and modern skis are held every year.