Hebei court unveils phone program to expose deadbeats
Share - WeChat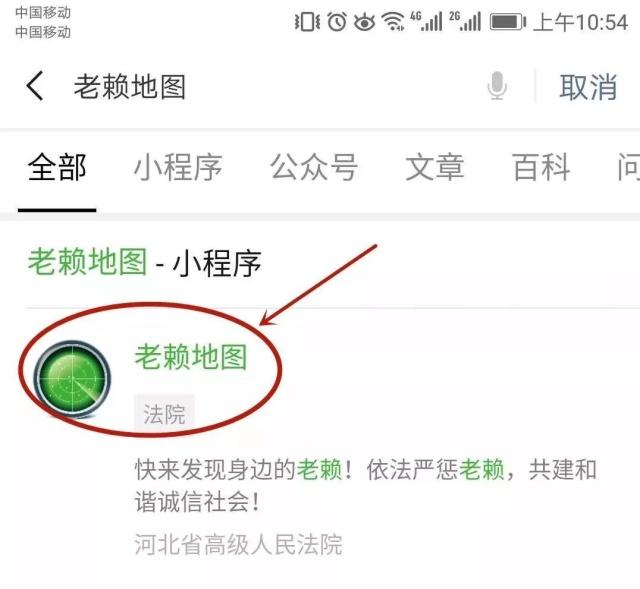 The top court in Hebei province has released a program on WeChat to expose information about deadbeats to the public, a measure to pressure debtors to repay what they owe.
"This is one of the methods we have taken to promote the enforcement of judgments against defaulters, or people who refuse to fulfill court orders to pay debts," the High People's Court of Hebei said after it unveiled the program on Jan 14.
With the program, smartphone users can find out how many deadbeats are within 500 meters, as well as their personal information, which they can use to share with friends or report them to the court.
Wang Yanling, a resident in Chang'an district in Shijiazhuang, Hebei province, said she was so surprised when she found so many debtors near her.
"The program shows there are 87 defaulters around my home at Huicui Garden, including individuals and companies such as restaurants and real estate developers," she said.
Wang said she would check the blacklist on the program first next time she wants to go to a restaurant.
The program is not the only measure the province has adopted to pressure defaulters to stop shunning repayment.
The Taocheng district court of Hengshui city in the province designed a special message for defaulters, in cooperation with local telecommunication operators.
If anyone calls the debtors, the message tells the caller that the person they are calling has been put on a blacklist by the court for not repaying debts.
It also asks the caller to urge the debtor to fulfill his legal obligations as soon as possible.
"The aim is to make debtors feel the pressure from friends and relatives, thus urging them to repay their debts," the district court's vice-president Kong Weiguo was quoted as saying by Hebei Daily.
So far, more than 40 out of 480 debtors who were put on the message blacklist have repaid their debts, involving more than 13.6 million yuan ($2 million), the district court said.
Additionally, defaulters will be limited in many aspects, such as taking high-speed trains or planes, running businesses and sending their children to schools that demand high fees.
In 2018, Hebei enforced 281,800 cases involving debts and about 44.9 billion yuan was repaid, the provincial court's president Wei Yanming said on Jan 15 in a work report during an annual session of the provincial people's congress.
Other places in China also carried out similar measures to give pressure to defaulters.
The Xingning district court of Nanning, in the Guangxi Zhuang autonomous region, posted information earlier this year of 10 defaulters on one of China's most popular video-sharing apps and is offering a reward for information on their whereabouts and property.