No disadvantage seen for China in trade talks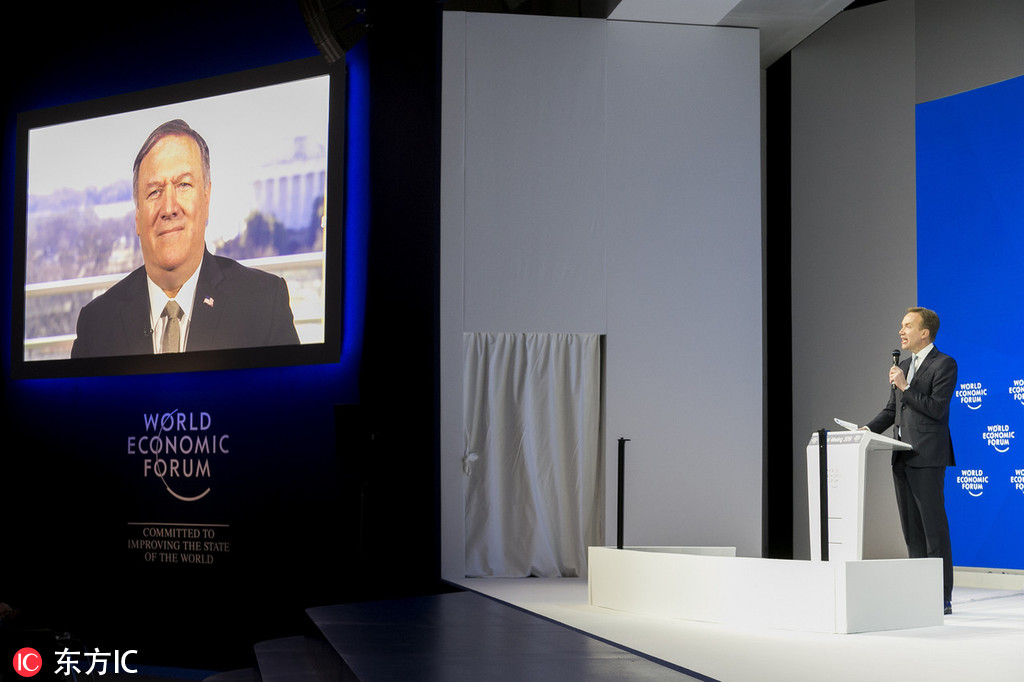 A day after US President Donald Trump implied Washington has the upper hand in trade talks with China, Secretary of State Mike Pompeo voiced optimism on Tuesday for a "good outcome" in upcoming negotiations.
Analysts in Washington and beyond, however, said Trump was wrong in suggesting that China's slowing economy should hasten a trade deal. They said they are cautiously optimistic on the latest round of talks to end the protracted trade war between the two economies.
Addressing delegates at the Davos World Economic Forum in Switzerland via video in Washington, Pompeo said, "There are those who say that conflict, superpower conflict between our two countries, is inevitable. We don't see it that way.
"You talked about the trade delegation coming. I am optimistic that we'll receive them well and that we'll have a good outcome from those conversations," he said, in answering World Economic Forum President Boørge Brende's questions about China-US relations.
Vice-Premier Liu He is scheduled to visit the US on Jan 30 and 31 for further consultations on Sino-US trade and economic issues, the Ministry of Commerce said on Thursday.
Liu's delegation will meet with Robert Lighthizer, the Trump administration's top trade negotiator, and Steven Mnuchin, the Treasury secretary in Washington, according to a New York Times report.
Eswar Prasad, a professor of international trade at Cornell University, said the US and China now have a strong common interest in finding a path to at least a temporary truce in the trade dispute that is exacting a significant toll on business and investor confidence in both economies.
"The trade war is not the main factor behind deteriorating economic sentiments in either country, but it undoubtedly contributes to an already uncertain and fragile economic environment," Prasad said.
There are many challenges to overcome to reach a deal that is acceptable to both sides, he added.
Douglas H. Paal, vice-president of the Asia Program at the Carnegie Endowment for International Peace, said he believes Pompeo was trying to echo Trump's own upbeat tweets on the prospects of the trade talks.
Trump had earlier tweeted that "deal is moving along very well". On Monday evening, he posted on his Twitter account: "China posts slowest economic numbers since 1990 due to US trade tensions and new policies. Makes so much sense for China to finally do a Real Deal, and stop playing around!"
"I think many US officials overestimate the US strengths and overestimate China's current economic slowdown and its origins," Paal told China Daily. "It is the reverse of what many in China think."
Jon Taylor, a professor of political science of the University of St. Thomas, said he believes Pompeo's speech offered "a very small measure of positivity".
In his Davos speech, Pompeo also said the course of the China-US relationship will be determined by "the principles that America stands by", and said he hopes China will adopt policies consistent with the US'.
"A win-win and lasting deal requires that the US treat China with both respect and as an equal. Until that happens, any proposals are going to be difficult to be concluded," Taylor said.
Given Pompeo's call for China to bend to US demands on trade and abandon its model of development, it doesn't appear that the trade war is going to conclude any time soon, the professor said.
China's economy grew by 6.6 percent year-on-year last year, according to the National Bureau of Statistics.
"Trump is seriously mistaken if he thinks that the US has the upper hand because China experienced 'only' a 6.6 percent GDP growth in 2018," Taylor said.
"My guess is that he'd love to have a US GDP growth approaching anywhere close to that during the same period," he said. "While China has some domestic economic issues, the country is still growing and has a robust balance of trade even with Trump's tariffs."
Gary Hufbauer, a nonresident senior fellow of the Peterson Institute for International Economics, said the Chinese economic slowdown is partially due to the trade war, but more importantly, other factors, including a slowing world economy.
"However, an escalation of the trade war will hit the US stock market hard, and that will contribute to a slowdown in the US economy," Hufbauer said. "President Trump needs a strong economy to stand a chance for re-election in 2020. His repeated suggestions that the US has the upper hand are wrong."