Stocks tripped up by various issues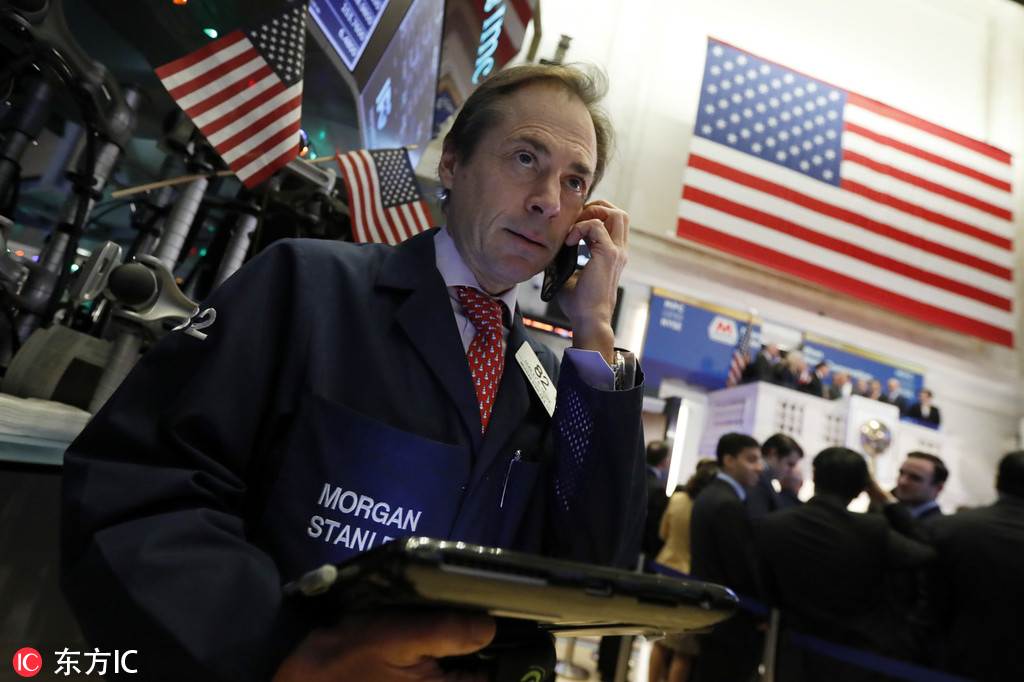 The US stock market's rebound was sidetracked on Tuesday over concerns about economic growth, company earnings, trade talks with China and a drop in existing-home sales.
The Nasdaq Composite, the S&P 500 and the Dow Jones Industrial Average all posted their largest one-day percentage losses since Jan 3.
The Nasdaq fell 37 points, or 1.9 percent, to 7,020; the S&P 500 lost 38 points, or 1.4 percent, to 2,633; and the Dow was down 302 points, or 1.2 percent, to 24,404.
On Monday, the International Monetary Fund cut its 2019 global economic growth estimates, and China confirmed its slowest economic growth rate in 28 years.
"There seems to be a plethora of negative news regarding the global economy and China, and the corporate profits that were reported today couldn't offset that," said Chuck Carlson, chief executive officer at Horizon Investment Services in Hammond, Indiana.
"A lot of companies are coming out with earnings this week, so it's going to be a battle between earnings and the perception of what's going on in China and the global market," Carlson added.
All three major US stock indices pared losses after White House economic adviser Larry Kudlow denied a report by the Financial Times that the Trump administration had canceled preliminary trade talks with China.
The FT reported that the administration rejected an offer by two Chinese vice-ministers to travel to the US this week because of a lack of progress on two key issues.
"With respect, the story is not true," Kudlow told CNBC.
A planned trip by Wang Shouwen and Liao Min was a prelude to a Jan 30-31 meeting in Washington between Chinese Vice-Premier Liu He and US Trade Representative Robert Lighthizer, according to the FT.
The FT, citing sources, said US officials canceled the meeting with Wang, a vice-minister of commerce, and Liao, a vice-minister of finance, because of a lack of progress on technology transfer issues and "structural" reforms to China's economy.
With about 12 percent of S&P 500 companies having reported earnings so far, 78.7 percent have surpassed expectations.
Analysts expect S&P 500 fourth-quarter earnings growth of 14.1 percent, down from 20.1 percent on Oct 1, according to Refinitiv data.
Technology and multinational companies tumbled on Tuesday over trade uncertainty. Treasuries climbed, oil prices dropped and the yen strengthened.
Chipmakers fell more than 3 percent, with all the companies in the Philadelphia Semiconductor Index finishing lower.
On the Dow, Caterpillar and DowDuPont led a decline that exceeded more than 400 points at one point.
The National Association of Realtors reported Tuesday that existing-home sales fell 6.4 percent to 4.99 million last month. In 2018, sales dropped 3.1 percent from a year ago to 5.34 million units, the lowest since 2015.
Jim Collins, founding partner, Portfolio Guru LLC, also noted the US existing-home sales number but believes the bulk of the selloff was about the trade dispute with China.
"The market is likely to see heightened intraday volatility until there is some clarity on the state of US negotiations with China," he told China Daily.
Mark Hackett, chief of investment research at Nationwide Funds Group, said investors can get jittery "as the headlines continue to get more nerve-wracking with regards to a global slowdown and trade wars and government shutdowns … but we think those are temporary versus permanent".
At the World Economic Forum in Davos, billionaire investor Ray Dalio criticized monetary policymakers for an "inappropriate desire" to tighten rates faster than the capital markets could handle.
Bloomberg and Reuters contributed to this story.