US high-speed rail tries to stay on track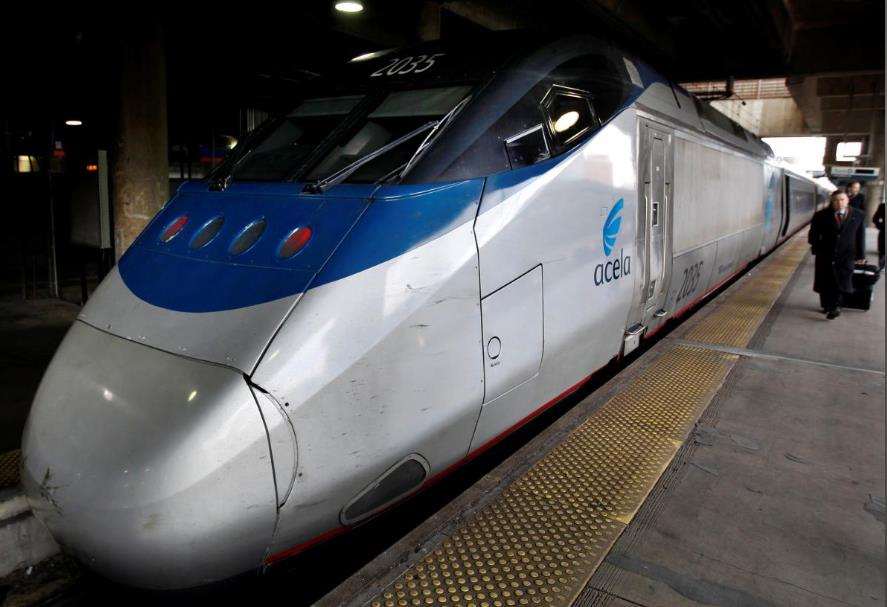 In 2009, US President Barack Obama started his presidency with an ambitious plan. He envisioned a nationwide network of high-speed rail corridors with passengers "whisking through towns at speeds over 100 miles an hour".
"There's no reason Europe or China should have the fastest trains, or the new factories that manufacture clean-energy products," he said in his State of the Union address to Congress in 2010.
But there are myriad reasons why Europe and China, not the US, have the fastest trains – and in China they are getting faster.
China began planning for its bullet train system in the early 1990s. Its first high-speed rail system, which runs at 155 mph to 217 mph (250 km/h to 350 km/h) between Beijing to Tianjin, began operating in 2008.
China's high-speed rail network is expected to surpass 38,000 km by 2025, and 45,000 km by 2030, according to China Railway Corp. That is far more rail lines than the rest of the world combined.
"That was bold, it was visionary. It was amazing for going that big. … I think China's high-speed rail system is one of the greatest achievements in the history of transportation" said Andy Kunz, president and CEO of the US High-Speed Rail Association.
And where is the US in the deployment of high-speed railways?
It's lagging other countries. The US is ranked 22nd with 54 km of rail in operation at a maximum speed of 240 km/hr (149 mph), according to the Environmental and Energy Study Institute, a nonprofit that promotes sustainable societies.
Obama allocated $8 billion in a 2009 stimulus package that identified 13 travel corridors for high-speed rail that touched 31 states, including California, Florida and Illinois.
After Republican governors in Florida, Ohio and Wisconsin rejected the funding over concern that their states would be left holding the bag if the federal funding dried up, Obama's plan quickly derailed. At the end, only the California high-speed project prevailed.
That system, which received $2.25 billion for a 400-mile connector between Los Angeles and San Francisco, has been mired in escalating costs and delays.
When he was California governor, Jerry Brown promised the high-speed rail system would cost $33 billion and be completed by 2029. The California High-Speed Rail Authority (CAHSR) now estimates the baseline cost of the project at between $77 billion to $98 billion and moved its completion time to 2033.
Ethan Elkind, director of the climate program at UC Berkeley's Center for Law, Energy and the Environment, said multiple factors in the US play a part in its failure to launch a nationwide high-speed railway project.
The US doesn't have the population densities that have enabled the systems in other countries. In the US, people tend to be spread out, as opposed to China, Japan and many parts of Europe, where cities are three to four hours away from each other.
"So high-speed rail tends to work best when you have cities that are too close to fly really, but a little too far to drive conveniently, and that's where high-speed rail connection can be very successful," Elkind said, adding that success of the ridership in the Northeast Corridor from Washington to Boston keeps Amtrak afloat.
Olivia Irvin, public relations manager at Amtrak, told China Daily that Amtrak's Acela Express is the fastest train in the Western Hemisphere with a current maximum speed of 150 mph on two sections of its route between Boston, Massachusetts, and New Haven, Connecticut.
That speed will be bumped up to 160 mph on Tuesday under a new rule by the Federal Railroad Administration that will allow railroads to operate passenger trains capable of traveling up to 220 mph.
Approximately 49.1 million passengers have traveled on the fleet of 20 Acela Express trains in the 17 years since revenue service began on Dec 11, 2000, Irvin added.
Trouble acquiring land from landowners attributed to the high costs and slowed construction of the California high-speed rail, Elkind said.
Another roadblock is a strong car culture in the US, bolstered by the convenience of an interstate highway network that spans the nation.
"In the 1950s, the federal government passed the interstate highway act and pumped billions of dollars into building highways, and there is a very strong political lobby in the US between automakers and the road construction industry," said Elkind.
Kunz, however, believes that transportation evolution affects lifestyle and urban development.
"First it was the rail lines back in the 1800s, everything was dense and walkable, we built highways, all the developments followed in a low-dense, spread-out format," he said.
"Now we are building rail systems again, and now all the development is going dense and following the rail system, so the developments will all adapt to the different forms of transportation over time," he added.
Private developer Texas Central Partners has proposed a rail line between Dallas and Houston, and according to the company's plan, trains could start running in 2024.
Brightline, a privately owned rail company, began running a line that travels at speed of 79 mph between Fort Lauderdale and West Palm Beach in Florida in January 2018.
In September, Florida-based Brightline announced it would take over a project started by XpressWest, which had planned a high-speed line connecting Southern California and Las Vegas, but the effort fizzled amid funding challenges.
Elkind is optimistic that Obama's vision of a nationwide high-speed rail system might become a reality. He said it would begin with smaller systems like a rail line from San Francisco to Los Angeles and spread across the country.
"It will just have to fill in piecemeal like that until we have a big federal program like we had for the highways back in the 1950s," Elkind said.
Contact the writer at teresaliu@chinadailyusa.com