Breakup museum tells of love's labors lost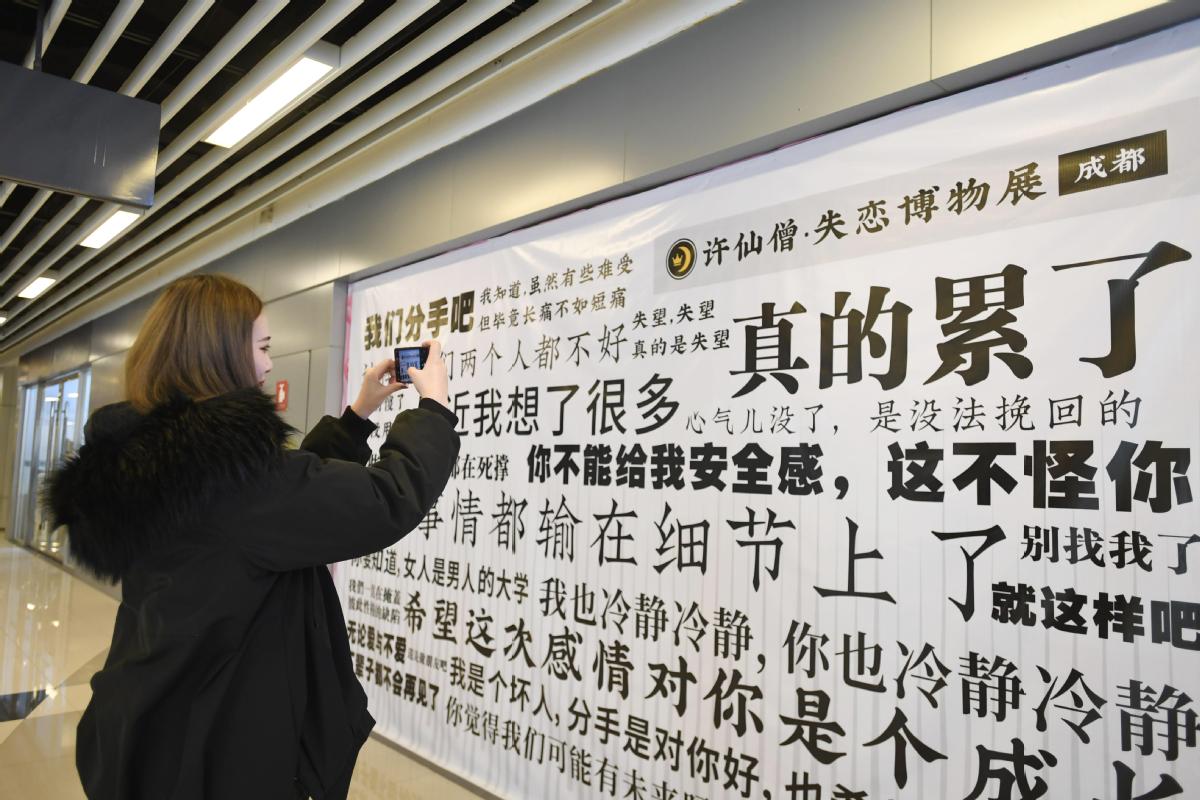 Stories and items on display in Chengdu aim to help others handle romance
Among over 100 stories exhibited at the Museum of Broken Relationships in Chengdu, one writer muses on forgetting a past lover.
"Forgetting one person only needs two things - time or new love. You chose a new love, but I chose the time," reads a line in English on the exhibition wall in the museum. Along with the stories, there are also about 80 items on display. They were donated by people across China who have broken up with their lovers or are still in relationships.
Xu Jie, also known as Mr Xu on his relationship channel on bilibili, an online video platform, is the museum organizer.
The idea for the museum originated from the first piece of advice he gave to his single female colleagues. Xu said many of them were in their 30s and chose to remain single. When asked why they felt reluctant to date, they replied that failures in past relationships frustrated them, so they did not want to make any effort to meet new men.
Noting they lacked the perspectives of a man to guide them in navigating relationships, Xu was motivated to share his views on avoiding misunderstandings. He also encouraged couples to have more courage in making the first step and cherishing the other half in his video posts.
Xu started his video channel as a hobby 18 months ago and it now has around 117,000 followers. Most of them keep in close contact with Xu and actively interact with him online.
A year ago, Xu read that the world's first museum of broken relationships was founded in Croatia's capital of Zagreb. It collected more than 1,000 breakup tokens from all over the world, and was recognized as the most creative museum in Europe in 2011.
Its exhibits represent the remnants of couples after breaking up, and they leave a mark in the couples' lives. The people who donated them did so in the belief that sharing the items and stories with others would help them emerge from the pain of breaking up. "It gave me great inspiration," Xu said. "Maybe we could have a Chinese museum of broken relationships as well."
After much research and thought, he chose Chengdu, the capital of southwestern China's Sichuan province, as the location for the museum.
He then asked his followers all over China to send their breakup tokens, with written accounts of their significance, to the museum.
Xu said he has received over 80 items, from a big doll to a finger-sized eraser, a half-knitted scarf and sweater set, and a bracelet. He said all the items and stories have special meaning to the donors and can inspire visitors in different ways.
The theme of the museum is dusty gray and pale white. Hanging on the ceiling and walls are small boards with heart-wrenching lines and stories that Xu's followers sent in.
Among the items displayed is a bracelet made of the Chinese medicinal herb ji xue teng - evergreen wisteria. Xu said it was owned by a man who saw his former girlfriend cheating on him downstairs from her apartment and that it had been a gift from her to him.
When the man went back home after seeing his former girlfriend hugging another man, his bracelet cracked. He hinted in his story that the bracelet might have "sensed" their imminent breakup.
"Often, we know how the love of couples comes to an end because we have experienced it ourselves and may have witnessed that of our friends' as well," Xu said.
"So, the tokens of these donors are similar too. There are certain dramatic but yet real stories, which if the donor didn't uncover and share with us, we would not even think about."
Among the exhibits that have impressed him the most, he recounts the story of a woman in her 20s whose fiance died before their wedding.
The woman donated a set of keys to the rental apartment they lived in during their university days and several romantic drawings they sent to each other. The drawings are records of some of the couple's memorable moments, like when her fiance knelt while proposing to her.
They got engaged right after graduation, but he died from a critical illness before their wedding ceremony.