Famous piggy bank in Seattle to get 'sister' for Chinese New Year
Share - WeChat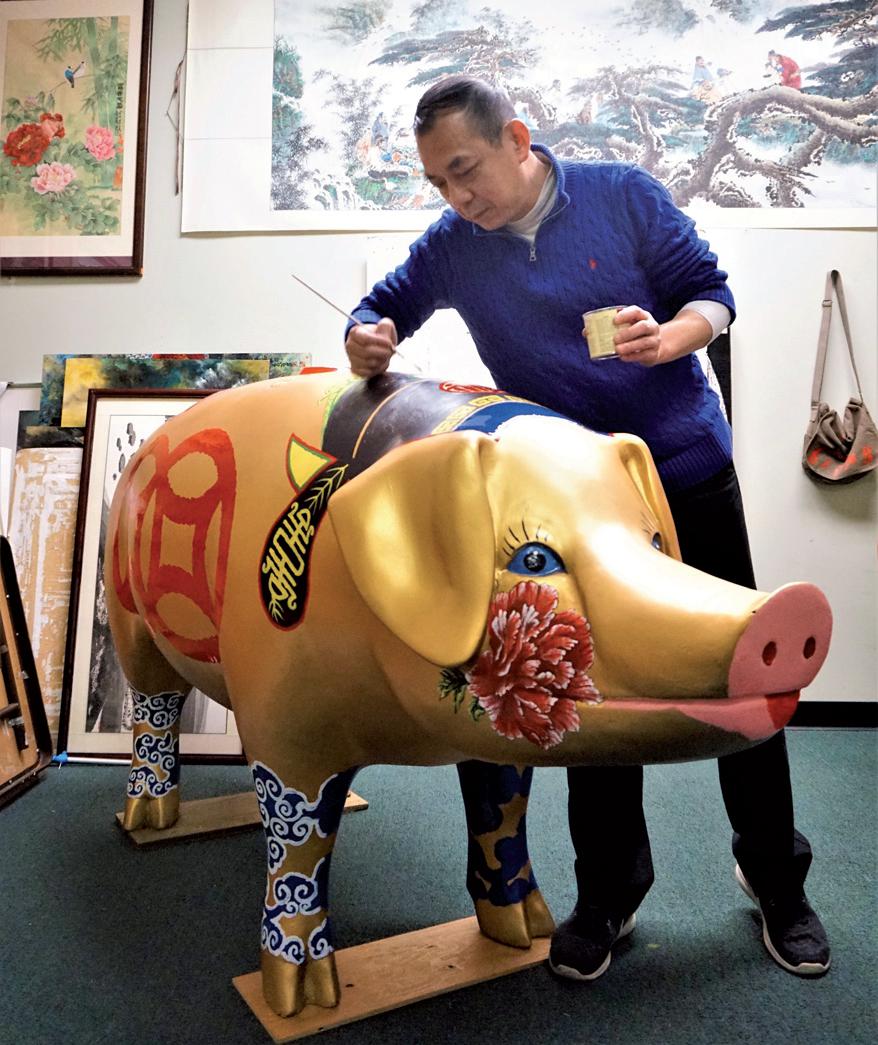 Seattle's Rachel the Piggy Bank will be getting a Chinese companion in time for the Lunar New Year of the Pig next month.
Rachel is a main attraction at the city's waterfront Pike Place Market, a top destination for visitors to Washington state's largest city.
Rachel's "sister" Zhuzhu is being crafted out of fiberglass by a local artist, Zuolie Deng, and will be displayed during major events hosted by the Chinese community, such as a celebration at the Wing Luke Museum and the annual gala by the Hong Kong Business Association of Washington on Feb 2, and the 37th anniversary of the Washington State Sichuan Friendship Association on March 2.
Zhuzhu will also make an appearance at a cultural fair at Seattle Center later this year.
"This is the first time we will have a Chinese version of the famous pig. We are all very excited," Deng said at his studio in the city's Chinatown-International District. Deng designed Zhuzhu, which will be painted with traditional Chinese patterns.
A native of Guangdong province, Deng is a lifelong practitioner of painting, calligraphy, seal carving and poetry. Born into an artistic family, his creative journey began under his father's guidance at the age of 6.
Even with a law degree and practice, Deng was determined to pursue his passion for art. He attended the Chinese Art Institute and received training in Western techniques.
Zhuzhu was co-developed by the Pike Place Market Foundation, the Washington State Sichuan Friendship Association and the Asia Pacific Education and Culture Foundation.
On both sides of Zhuzhu's body, two Chinese coins form the number eight to symbolize "expanding riches". On Zhuzhu's back is a seal-style calligraphy of four combined Chinese characters meaning inviting the riches, receiving the treasures.
On each side of Zhuzhu's face is a peony flower — China's national flower — which is a symbol of wealth and nobility.
On the pig's head is an official's hat, representing a successful career. At the center of the hat is the Chinese character for fu, and on both sides of Zhuzhu's head are symbols of longevity, wealth and nobility.
On Zhuzhu's hip is ruyi (the hope that everything goes according to one's wishes) and on her feet are auspicious clouds, representing sky-high aspiration and good luck.
"Through all these designs of auspiciousness and prosperity, I wish everyone a lucky Golden Pig year with wealth pouring in, a house filled with prosperity, everything going according to one's wishes and a long life," Deng said.
"2019 should be a year of celebration. It marks 40 years since the establishment of diplomatic relations between the United States and China. We hope Zhuzhu brings prosperity to both countries," said Felicity Wang, president of the Washington State Sichuan Friendship Association and Asia Pacific Education and Culture Foundation.
Rachel, a 550-pound bronze-cast piggy bank, was created by Georgia Gerber, a sculptor from Whidbey Island, Washington. Rachel was named after a 750-pound pig that won the 1985 Island County Fair.
Rachel has been "bringing home the bacon" for The Market Foundation since 1986, raising more than $200,000 to support social services. Legend has it that if you rub Rachel's snout and make a donation, you'll have good luck.
"So in addition to dragon and lion dances, long strings of firecrackers lighting up, martial arts performances and a children's costume parade, you will also get a taste of the authenticity of Lunar New Year with the city's iconic pig in a Chinese version through the neighborhood of the Chinatown-International District," Deng said.
Contact the writer at lindadeng@chinadailyusa.com