Erdogan pledges 32-km 'safe zone' in north Syria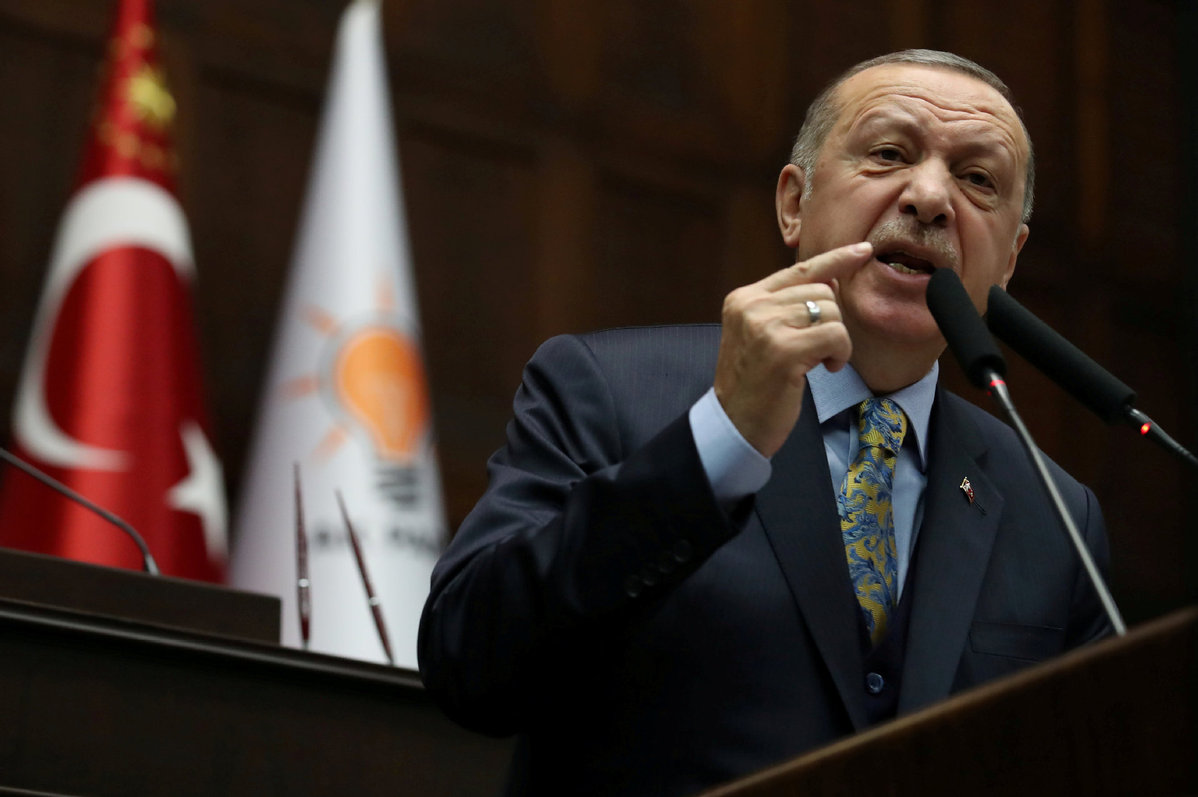 DAMASCUS-Turkish President Recep Tayyip Erdogan said on Tuesday that his government will establish a 32-kilometer-wide "safe zone" in northern Syria, adding that Turkey would seek logistic and financial assistance from the United States and other allies to create the zone.
His announcement came as the United Nations' new special envoy for Syria arrived in Damascus, his first visit to the war-torn country since he took over in January.
Erdogan told his ruling party legislators in Parliament that the zone would keep "terrorists out", protect civilians and stem the flow of refugees. He and US President Donald Trump discussed the issue in a telephone call late on Monday that apparently aimed to ease tensions after the US president tweeted a threat to Turkey warning of economic harm should Turkey attack US-backed Kurdish forces in Syria.
Ankara considers the Kurdish forces in Syria "terrorists" aligned with a Kurdish insurgency within Turkey's own borders.
Erdogan said the two leaders reached an "understanding of historical importance".
"If the coalition forces and the United States especially, if they give us logistical and financial support with the condition of protecting the people's safety there, we would accomplish such a safe zone," he said.
However, Syria's Kurds on Wednesday rejected the US proposal for a "security zone" under Turkish control along the Syrian side of the two countries' border.
Senior political leader Aldar Khalil said the Kurds would accept the deployment of UN forces along the separation line between Kurdish fighters and Turkish troops to ward off a threatened offensive.
"Other choices are unacceptable as they infringe on the sovereignty of Syria and the sovereignty of our autonomous region," Khalil said.
Kurdish fighters in Syria have been the US only partners on the ground in Syria in the war against the Islamic State group. The US plans to withdraw its 2,000 troops, leaving the Kurds exposed to Turkish attack, and will likely push them to work out a deal with President Bashar al-Assad's government as they seek protection.
In Damascus, Geir Pedersen, the new UN special envoy for Syria, said he hopes to have productive talks with Syrian officials. He spoke briefly to reporters upon his arrival at the capital, before heading to a meeting with Syrian Foreign Minister Walid al-Moallem.
State-run media quoted Moallem as saying Syria is prepared to cooperate with Pedersen toward reaching a political solution to the Syrian crisis, adding that any such settlement must be based on the "eradication of terrorism and ending all illegitimate foreign presence in Syrian territory".
Nearly half a million people have been killed in the seven-year civil war in Syria and various UN-led peace efforts and indirect talks between the Syrian government and opposition in Geneva ended in failure.
On Wednesday, around 30 civilians were either killed or wounded by a blast hit Syria's northern city of Manbij during a US patrol in the Kurdish-controlled city, according to Al-Mayadeen TV.