Brexit hangs in balance in May confidence vote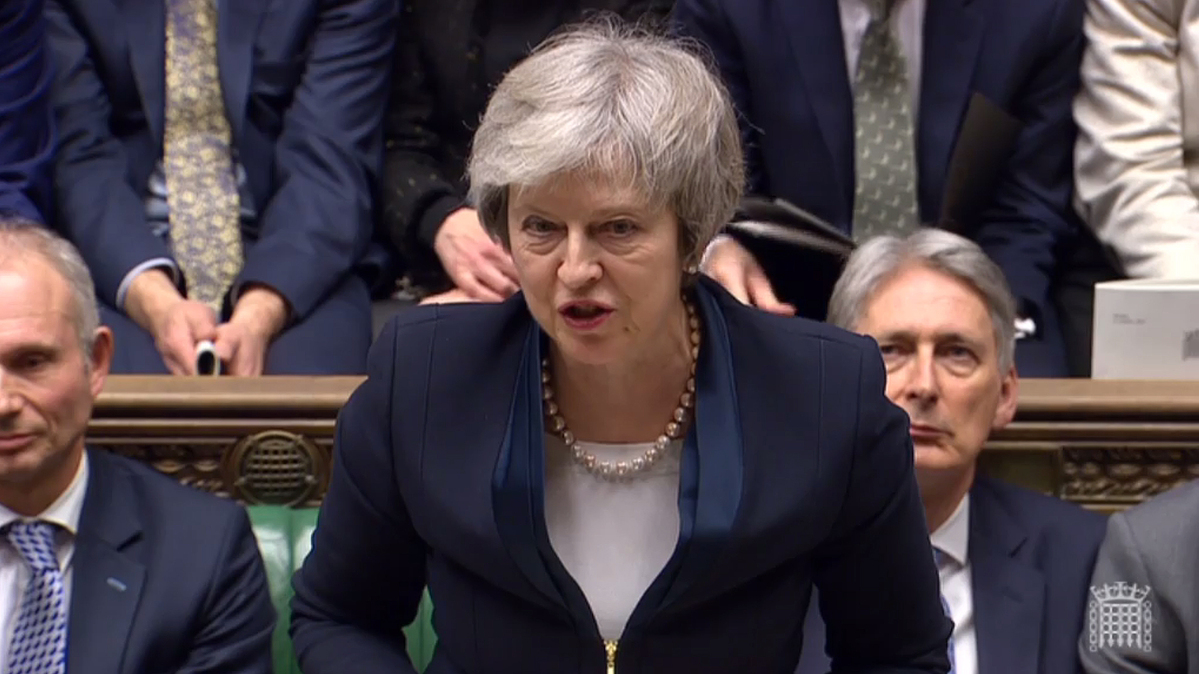 No-deal outcome, second referendum both made more likely after PM's proposals rejected
The government of British Prime Minister Theresa May faced a vote of no confidence in the House of Commons on Wednesday evening as the latest chapter of the Brexit saga played out.
On Tuesday, May suffered the heaviest defeat by any prime minister in nearly a century as her proposals for Britain's withdrawal from the European Union, scheduled to happen at the end of March, were rejected by 432 votes to 202, with nearly 120 members of her own Conservative Party voting against her.
As a result, Jeremy Corbyn, leader of the opposition Labour Party, called for a motion of no confidence, which was to be the subject of a vote on Wednesday night. The vote was scheduled for after press time.
Northern Ireland's Democratic Unionist Party, upon whose support the government relies, indicated it would back her, and Conservative MPs who rebelled against May in recent votes were expected to be loyal for the ultimate test.
Should she survive the vote, May told MPs, she would return to the Commons next week with an alternative proposal for Brexit. However, given the short space of time, it was hard to see what new measures she would be able to offer.
China's Foreign Ministry spokeswoman Hua Chunying said China hoped that a "stable and orderly" Brexit process will advance, as it serves the best interests of all parties.
She also said China's policy on developing China-UK and China-EU relations in parallel would remain unchanged.
Professor Alex de Ruyter, director of the Centre for Brexit Studies at Birmingham City University, said Tuesday's result raised the stakes on all sides.
"I think the odds of a no-deal Brexit have risen," he said. "It's not the most likely outcome, but due to political inertia, it's more likely than before.
"The EU has made it clear they're not going to reopen negotiation on the withdrawal text, and in terms of parliamentary arithmetic, there's no majority for no deal, but there's no majority for any other permutation, either.
"I think Parliament will enact an amendment in some form over the next few days to try and require the government to seek an extension to Article 50 in order to have another referendum."
If the government were to request and be granted an extension of the Article 50 withdrawal process, it would come with strings attached, de Ruyter said.
"What has been emanating from the EU is that any extension would only be for a few months, and in the case of something significant like another referendum taking place. The message would be-put your house in order, then put up or shut up."
The increased likelihood of no deal was also seen as increasing the chances of a second referendum.
Thomas Cole of the People's Votecampaign, which supports a new referendum, welcomed the news.
"When we launched, no one gave us a chance, and nine months later we're in a very good position-polls show the majority of the population want another vote and also want to stay in the EU," he told China Daily.
"Tuesday's defeat showed that across the political spectrum, there's no appetite for this deal. Its scale shows that no minor tweaks are likely to get it through Parliament, so I think the chances of a second vote have definitely increased."
However, public and parliamentary feelings and sentiment are not the same thing, so gaining the support of MPs is considered the key to any chance of success.
"We're seeing more MPs on both sides coming out for a people's vote," Cole said. "We have a lot of work to do, but we'll make the case that all the alternatives will in no way lead to any kind of satisfactory outcome, and the best scenario is the one we have already-in the EU.
"The vote of no confidence makes no difference, as whoever is in government, May or Corbyn, will try to prove (that) the promises of the Leave campaign in 2016 stack up, which they don't. All Brexit outcomes are inferior to the relationship we already have with the EU."
As those who say the people have already had their vote, Cole said it is only fair that they are allowed to vote again.
"We accept the 2016 result happened. We're not asking for a rerun, but when facts change, people are allowed to change their view," he said.
"The Brexit that was promised isn't going to happen, and the UK has put itself in a position of weakness. The people started this process, so it should be the people who end it."
Zhou Jin in Beijing contributed to this story.