Number of student returnees on the rise: report
Share - WeChat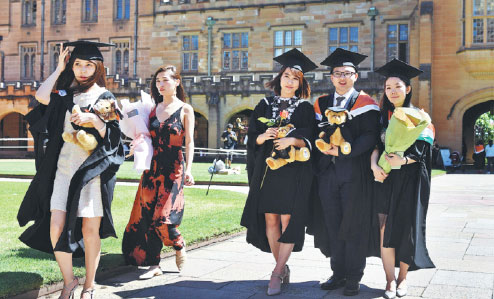 China witnessed a third wave of students returning from overseas studies in 2017, a trend expected to continue in 2019, according to a report by Liepin, China's leading job recruitment site.
Data shows the number of Chinese students in other countries now totals 5.19 million, with 608,400 Chinese students going overseas to study in 2017, an increase of 11.74 percent over 2016.
At the same time, more Chinese students have chosen to return to work in China after graduation. According to the Ministry of Education, since 2014 the return rate of overseas Chinese students has remained above 78 percent.
The report by Liepin shows 77.02 percent of respondents in a survey planned to work in China. It said domestic measures to woo talent and increasing difficulties to find a job in foreign countries caused the graduates to return to China.
According to the report, the number of students educated abroad in China's Internet industry rose by 75 percent in 2017, far higher than other sectors. It is expected that the Internet sector will continue to have demand for high-end technology talent educated overseas in 2019.