Graduates struggle to gain foothold in capital
Share - WeChat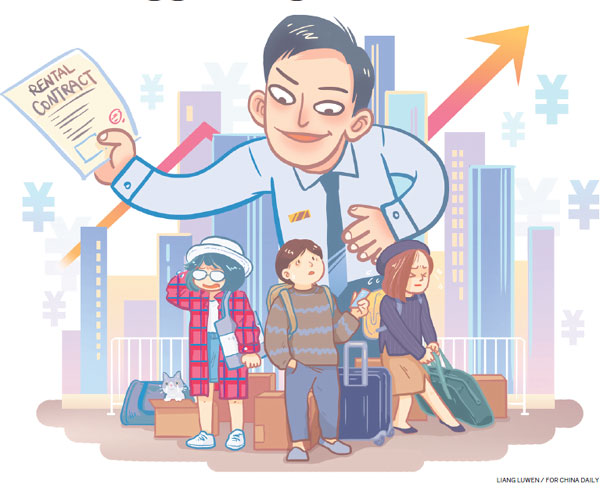 Shared apartments are becoming more popular due to steep rents. Wang Xiaoyu reports.
Rents finally stopped rising in Beijing in August, falling by 0.28 percent from July, and they have continued to drop in the months since.
Apartment rental app Ziroom reported month-on-month falls in average rents of between 3 and 5 percent in September and October, according to the Beijing Municipal Commission of Housing and Urban-Rural Development.
But they rose by nearly 9 percent in the first seven months of last year, according to a report released in September by Housing Big Data Research, a data laboratory formed by real estate experts and researchers from the Chinese Academy of Social Sciences, and Caixin reported they were up almost 22 percent year-on-year in July.
The Housing Big Data Research report attributed the drop in August to direct intervention by Beijing's municipal housing watchdog, which ordered real estate agencies not to use bank loans to buy apartments, and to release more apartments from stock to the market.
The rental market was thrust into the spotlight again in early September when news broke that a man had died of leukemia allegedly caused by excessive formaldehyde levels in his rented apartment in Hangzhou, Zhejiang province.
The man's wife sued Ziroom, through which her husband rented the apartment, and a court hearing was scheduled for Sept 27. But it was postponed after the court granted Ziroom's request for a judicial appraisal, The Mirror reported on Sept 21.
A slew of test results showing high levels of formaldehyde in rented homes - from major cities, including Beijing, Shanghai, Shenzhen and Guangzhou, both in Guangdong province, and elsewhere - soon sprang up on social media platforms.
That added safety concerns to renters' earlier anxieties about affordability.
Among the 8.6 million renters in Beijing experiencing such feelings are college graduates looking to make ends meet.
"Thanks to my rented apartment, I turned from a penniless college graduate to a patient swamped in debt," a micro-blogger said in a post tagged "Heartbreaking moments in housing rental."
A report published on Sept 19 by ExpressIn, a research and marketing firm, tracked the changes in fresh graduates' rental preferences between June and September.
It showed that more attention - an increase of 24 percentage points to 65 percent - was being paid to shared apartments, with the popularity of renting whole apartments dropping 17 percentage points to 52 percent.
Meanwhile, cheaper rooms in the Beijing suburban districts of Changping and Tongzhou, especially those priced around 2,500 yuan ($370) a month, were finding favor with fresh graduates who initially hoped to live in more centrally located neighborhoods.
The report concluded that the changes reflected "a gap between the ideal and the reality" for young college graduates.
At the outset of their careers, college graduates in Beijing are faced with having to make compromises to find the spot they believe they deserve in the city.