Tougher punishment vowed for those endangering bus security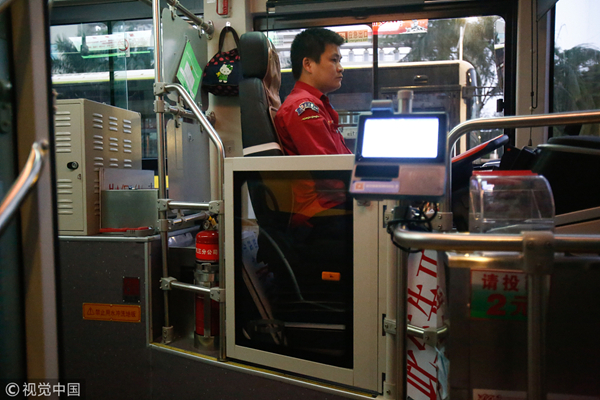 People who grab steering wheels or attack drivers on moving buses will face tougher punishments to effectively safeguard public transportation safety, a newly released guideline said.
The guideline, issued by the Ministry of Public Security, the Supreme People's Procuratorate and the Supreme People's Court on Thursday, clarifies that passengers who interfere with drivers, such as by pulling on the steering wheel or hitting drivers while the bus is moving, would be punished for the crime of endangering public safety.
"Identifying the crime and changing the penalty aim to better ensure safety on moving public transportation and to prevent tragedies, especially like the fatal crash in Chongqing, from occurring," said a statement from the three authorities.
In October, a bus plunged from a bridge into the Yangtze River in Chongqing after a female passenger attacked the driver. Thirteen people died and two others remain missing and presumed dead.
"A tougher punishment for those interfering with bus drivers is necessary," Ruan Chuansheng, a law professor at the Shanghai Administration Institute, said on Friday.
Suspended sentences should generally not be allowed in such cases, the guideline said, even if the passengers' behaviors do not result in serious damage.
Ruan said that a suspended sentence, which was often applied in cases where bus drivers were attacked but did not result in major consequences, is not enough. "The sentence is too lenient for the attackers to realize how dangerous their actions are, let alone to deter such offenses," he added.
But Zhao Li, a criminal lawyer at Beijing Jingshi Law Firm, said a suspended sentence still needs to be applied in some situations.
For example, if a passenger just argues with a bus driver without physical contact, or the driver applies the brakes in a timely manner while being struck by the passenger, "the suspended sentence may be the more accurate application of the Criminal Law," he said.
Chinese courts handled 223 criminal cases involving passengers and bus drivers from January 2016 to October last year, according to the top court.
In about 30 percent of the cases, passengers attacked drivers by pulling on the steering wheel while the bus was moving, which brought deaths or injuries in about 40 percent of such cases, it added.