Chilean cherries constructing world's longest line of fruits in Shanghai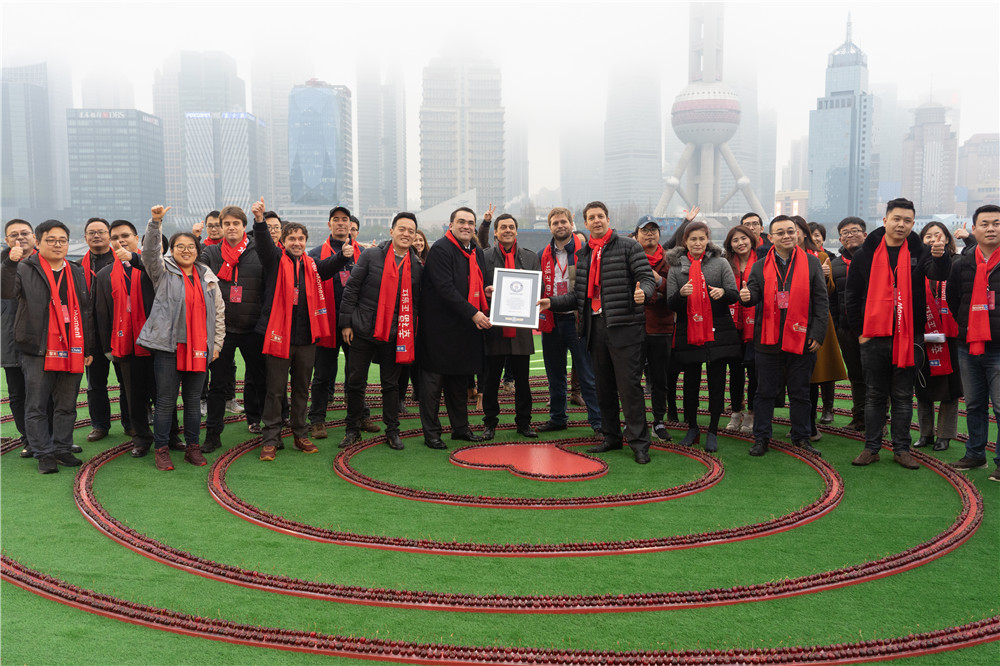 The Chilean Cherry Committee of the Chilean Fruit Exporters Association (ASOEX) was on Jan 10 awarded a Guinness World Records title for constructing the world's longest line of fruits at the Shanghai Port International Cruise Terminal.
Witnessed by a Guinness World Records official adjudicator, the Chilean Cherry Committee used 24,638 cherries, set side-by-side and each touching the next, to form a line that form a giant image of two cherries.
"We would like Chilean cherries to be a part of 'red moments' during all sorts of occasions for people across China," said Charif Christian Carvajal, the marketing director of Europe and Asia regions of ASOEX. Red moments are the special times when people gather with their family, friends and colleagues and share Chilean cherries.
"That is why we were so excited to construct a Guinness World Records record-breaking line of cherries here in Shanghai.
"Last year we exported almost 160,000 tons of fresh cherries to China, which equates to millions of individual cherries. So, ultimately, this world's longest line of fruits represents an even longer line of fruits that originates in orchards nestled in Chile's beautiful natural landscape and stretches to homes and workplaces across China, carrying with it the potential to be a part of millions of 'red moments' every winter," Carvajal added.
The event wrapped up with an announcement of the donation by Cherries from Chile of tens of thousands of cherries to less fortunate families in Shanghai
Chile is the largest supplier of cherries to China, which is also its top importer of the fruit, buying over 85 percent of the South American nation's exports.