Venture uses agricultural goods to fight poverty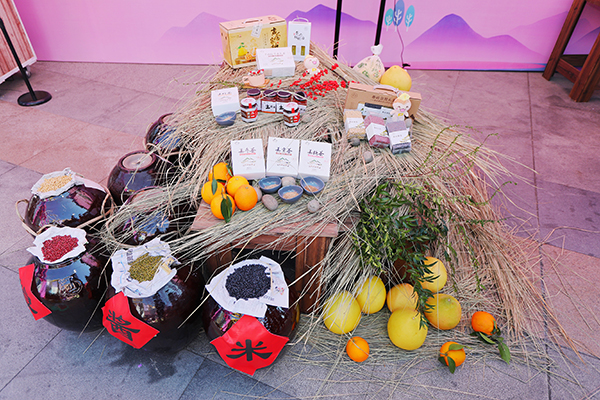 A unique venture popped up in Guangzhou in December, inviting citizens to be food adventurers by playing games.
The winners of five games, which included grabbing ice cream from a server's hands and picking up vegetable-shaped puppets with huge chopsticks, were given free juice and snacks.
The pop-up venture was set up by China's short-video platform, Douyin, and Country Garden, a mainland property developer, and featured The Market of Shenzhou (a poetic name for China), which attracted young people to sample agricultural products from different counties in China and learn the stories behind them.
The showcased products included lamb from the Dongxiang autonomous county in Northwest China's Gansu province, orchid tea from Shucheng county in Anhui province and walnut oil from Pingjiang county in Hunan province.
But all the goods had one thing in common-they are all from counties below the national poverty line and they are all branded Bixiang.
Bixiang is a charity brand created by Country Garden that features selected, high-quality agricultural products from poor counties sold through its online and offline channels.
Ma Juan's zhaguoguo (fried dough) is one of Bixiang's products.
Ma completed her master's degree last year and decided to move back to her hometown, a poor village in Dongxiang, to start a factory making zhaguoguo.
"It's a delicious, sweet snack that every housewife in our village can make. And I saw people in other parts of China like sweet snacks. So, I decided to move back," says Ma.
Ma brought together housewives in her village and started a small factory making zhaguoguo and selling it online early last year.
"We sold 98 boxes on the first night," says Ma, whose products are now sold in Italy, Australia and Spain.
"Country Garden is investing in a new factory in our neighboring village so that I can train and help more women."
Douyin and Country Garden also launched a city food guide at the event.
The guide was based on data from Douyin users from November. It shows that more than 14 million food-related videos were played 51.8 billion times on Douyin, attracting 75 million comments and 1.3 billion likes.
As for taste preferences, the guide shows sweet is the most-popular flavor with 220 million videos played, followed by 150 million for spicy.
According to the guide, Country Garden has been doing targeted poverty alleviation since 1997. In 2018, it helped 336,000 people from 14 counties in nine provinces and autonomous regions, including Shaanxi, Hebei, Henan, Jiangxi and Guangdong.
According to Li Songguo, vice-general manager of the Bixiang Agricultural Development, the Bixiang brand had sold more than 20 million yuan ($2.9 million) worth of products as of Dec 15.
"Bixiang not only helps people sell their products on e-commerce platforms but also is part of every step, from seed selection to packaging, "says Li.
In August, Country Garden brought 70 young entrepreneurs from 14 counties to Guangzhou for a five-day training program to help them better lead their villages to build small local industries.
"We want to design a sustainable model to alleviate poverty and help the villagers in all aspects, from education and funding to cultivating marketing and sales channels," says Li.