Sino-US relations at a critical crossroad
Share - WeChat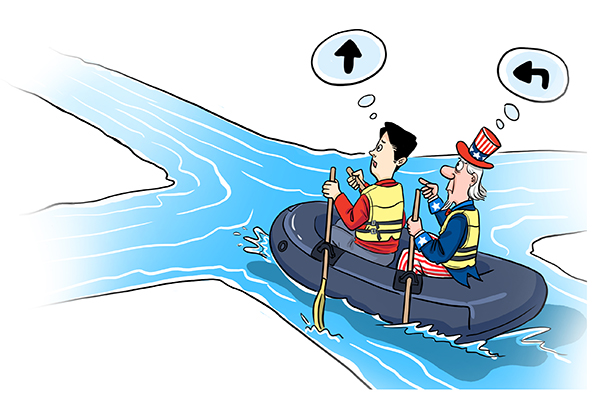 The 40th anniversary of China-US relations is a historical occasion, not least because the relatively steady development of Sino-US ties has made huge contributions to world peace and development. Despite all the ups and downs along the way, the Sino-US partnership has seen plenty of cooperation and achievements in the past four decades.
China and the US worked together to cope with the 2008 global financial crisis, and jointly activated the G20. They also led negotiations on how to best fight climate change resulting in the 2015 Paris Agreement, jointly confronted Ebola in Africa, worked together to overcome numerous conflicts and divergences at the bilateral and multilateral levels, and have had so much to share.
But relations between no two countries can stay unchanged. As the world's two largest economies, the US and China both have to not only cope with new conditions at home, but also meet the new regional and international challenges. While we cannot return to the past, we shouldn't refuse to learn from it and make sure bilateral ties proceed in a healthy and steady manner.
But why is the US bent on reversing the course of China-US relations? What scholars call frustration and anxiety, and strategists term a sense of adversity, boils down to the following facts.
First, the US feels uncomfortable with China's rapid development, and can't adapt to its own declining influence. Second, it has misread China's orientation, and lost confidence in its own future. Third, it still uses zero-sum game and the Cold War concept of traditional geopolitics to define hostile and friendly relations with outdated Western values. And fourth, instead of making sincere efforts to solve its domestic problems, it resorts to unilateralism and protectionism, breaks the rules-based international order, coercing allies to accept unfair treaties, triggering trade frictions with China, and blocking technology transfer while trying to contain China's rise.
The US is falling behind the trend of history. After the end of the Cold War, the US was confident of remaining the dominant world power forever. But it can no longer afford to pay the political, economic and security costs of single-handedly leading the world.
More important, the world has entered an era of inclusive development, of win-win cooperation. Just like the US and other Western countries, China and the emerging economies too are equal members of the international community, and an integral part of the global industrial, value and interest chains. So geopolitics of our times should be based on building a community of shared future for humankind and a new type of international relations featuring justice, equity and cooperation in a multilateral world.
It would be prudent to view the present global situation in the context of the nature and position of the China-US relationship. Since China and the US cannot travel back in time nor can geopolitics, the two sides need to shape the future together, by engaging in political dialogue rather than confrontation, seeking partnership rather than alliance, and accepting coexistence rather than making efforts to contain each other.
On the economic front, they should advocate pluralism, and a diverse biosphere for benign competition. In security, they should give due consideration to both traditional and non-traditional security concerns, making the fight against terrorism a common goal for all countries, insisting that major powers refrain from competing for spheres of influence in international hot spots, and stop undermining the sovereignty and development interests of less-developed countries and regions.
As for environmental protection, no country can claim safety as resources are depleted, the effects of greenhouse gases worsen, and natural disasters increase.
Although it is not easy to change the nature of the China-US relationship, the fact is, China has developed at such a fast pace because of reform and opening-up, and hard work. Similarly, the US can remain a great nation only through its own endeavors. Without realizing these simple facts, those people who intend to build barriers between China and the US will only end up isolating themselves.
The author is director of Center of American Studies, China Foundation for International Studies. Source: chinausfocus.com
Most Viewed in 24 Hours
China Views