Revelers brave elements as world ushers in the new year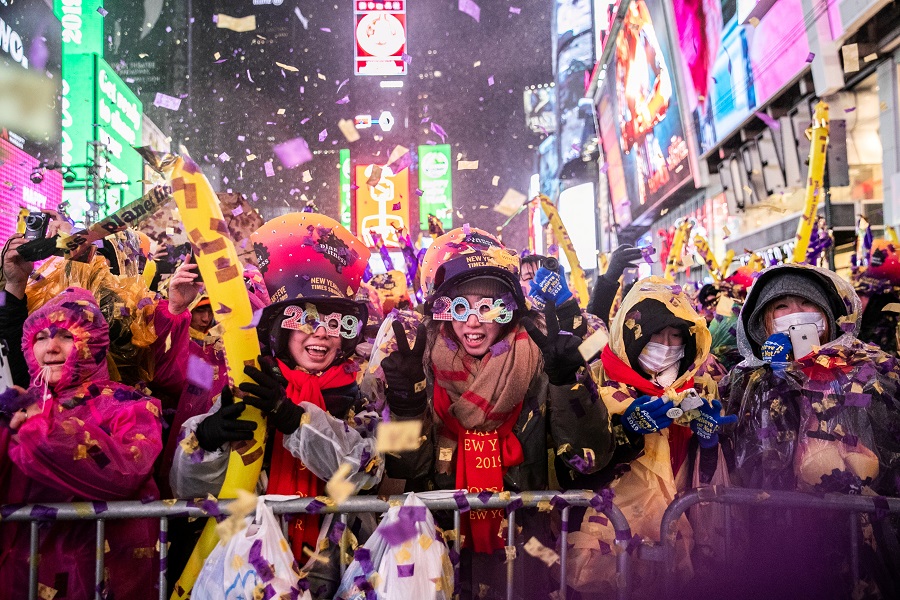 Fireworks and countdown celebrations took place around the world on Monday to mark the transition to the New Year as revelers around the globe bid farewell to 2018 and welcomed 2019.
In New York City, pouring rain couldn't keep crowds from picking Times Square for the traditional ball drop and a string of star performances.
"I didn't expect the rain, but I'm well prepared," said Jessica Wang, a Chinese student from Canada, who wore a plastic poncho.
Because umbrellas were banned for security reasons, hardy spectators like Wang packed their ponchos and even taped plastic bags to their bodies as they took up their spots in the "Crossroads of the World" as early as 7:30 am on Monday.
The celebration took place under tight security.
Partygoers were checked for weapons and then herded into pens, ringed by metal barricades, where they waited for the strike of midnight.
About 7,000 police officers provided security, with the help of bomb-sniffing dogs, 1,225 security cameras and 235 "blocker vehicles" to stop any potential vehicle attacks.
This year's official programming began at 6pm, concluding at 12 am with the lighting and raising of the New Year's Eve Ball up a pole atop One Times Square.
Earlier Monday, the Sino-American Friendship Association (SAFA) flipped the switch that lights the ball before presenting a Chinese cultural performance culminating in red and gold pyrotechnics.