Revelers brave rain for Times Square countdown
Share - WeChat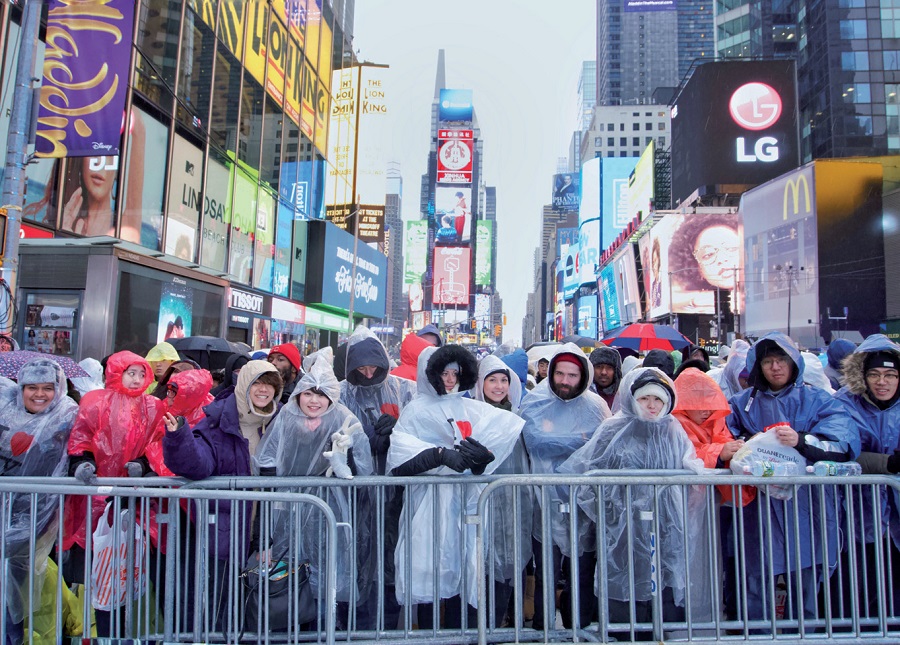 In a packed Times Square, the party to ring in 2019 took place amid relatively mild temperatures but in a steady rain.
"I didn't expect the rain, but I'm well prepared," said Jessica Wang, a Chinese student from Toronto, who wore a plastic poncho.
Because umbrellas were banned for security reasons, hardy revelers like Wang packed their ponchos and even taped plastic bags to their bodies as they took up their spots in the Crossroads of the World as early as 7:30 am Monday.
Along with other revelers from around the world, Wang went to see the traditional crystal ball drop, fireworks and a blizzard of confetti.
"I'm so excited. I think I will stick to the last minute!" she exclaimed.
This year's show's official programming began at 6 pm, concluding at 12 am with the lighting and raising of the New Year's Eve Ball up a pole atop One Times Square.
Earlier Monday, the Sino-American Friendship Association (SAFA) flipped the switch that lights the ball before presenting a Chinese cultural performance culminating in red and gold pyrotechnics.
Chongqing took the spotlight with dragon dance performances. As one of the top 10 tourist attractions in the world, Chongqing, a major city in Southwest China, is known for its scenery, mountains, rivers, pandas and spicy cuisine.
"Chongqing stands ahead of most cities in China with its abundant tourism resources. It has not only the splendid natural views of mountains, rivers, forests, gorges, but also a long history, brilliant culture, famous folk arts and special cuisine," said Li Liyan, cultural counselor of the Chinese Consulate General in New York.
"Traveling is the best way for human beings to understand the world and promote exchanges among different civilizations," said Wang Dingguo, deputy director general of the Chongqing Municipal Commission of Culture and Tourism Development.
According to Wang, from January to November in 2018, Chong-qing had 1.88 million outbound tourists, among which some 30,000 people visited the US.
In the same period, Chongqing hosted 2.07 million visitors from around the globe, with nearly 230,000 of them coming from the US.
Li said that in recent years "the personnel exchange between our two countries is growing robustly, and the inbound and outbound travel market continues to proper, which has not just boosted economic and social development in China and the US, but also contributed to Sino-US relations".
"I hope that today's event will encourage more American friends to bring Chongqing into your travel plans," Li added.
Li said 2019 marks the 40th anniversary of the establishment of diplomatic relations between China and the US, and "China will open its door wider to the outside world."
The famous crystal ball will drop during the midnight countdown.
The ball is a 12-foot (3.5-meter) diameter geodesic sphere covered with 2,688 Waterford crystal triangles lit by 32,256 LEDs. The new year will burst into light at midnight, accompanied by pyrotechnics and the release of 3,000 pounds of confetti, according to CNBC.
Some 7,000 police officers will provide security, with the help of bomb-sniffing dogs, 1,225 security cameras and 235 "blocker vehicles" to stop any potential vehicle attacks.