E-commerce platforms remove products of healthcare firm Quanjian
Share - WeChat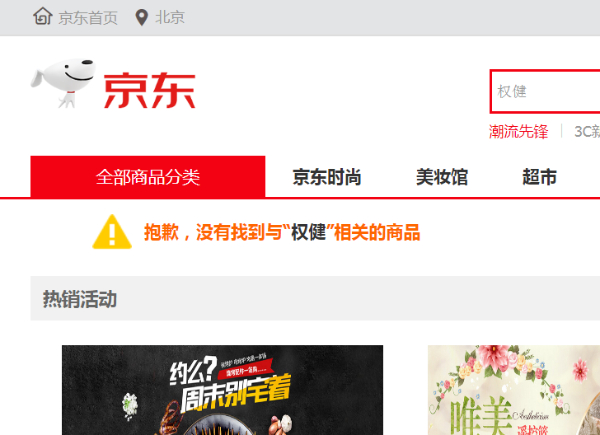 Some of China's major online shopping malls have removed products of Quanjian, a healthcare company accused of making huge profits by misleading customers about the efficacy of its herbal products.
Products made by Quanjian Natural Medicine & Technology Development Science Co were no longer available on JD, Tmall, and Suning as of Friday.
"The products you are looking for cannot be shown according to relevant laws, regulations and policies," shows the result from a search of Quanjian products on the website of Suning.
JD told news outlet ThePaper that it has removed all the products of Quanjian on Thursday while Alibaba, an e-commerce giant, said "they were watching closely the situation of Quanjian and waiting for the investigation results of the State Administration of Market Regulation."
The administration said on Thursday it has launched a probe into Quanjian, a major drugmaker in Tianjin city which has come under spotlight recently after the case of a 7-year-old girl who succumbed to cancer after suspending her chemotherapy and switching to treatment with a drug made by Quanjian three years ago resurfaced.
Previous report: Drugmaker, health platform in legal battle
A major drugmaker in Tianjin has rejected accusations that it has made significant profits by misleading consumers about the efficacy of its herbal products.
The allegations were made in an article published Tuesday on Dingxiang Doctor, a health information exchange platform. The piece cited the case of Zhou Yang, who succumbed to cancer at the age of 7 in 2015.
The article alleged that her father decided to suspend her chemotherapy and switch to treatment with a drug made by Quanjian Natural Medicine Science and Technology Development Co because its efficacy had been vouched for by the company's chairman.
Market supervision officials in Tianjin's Wuqing district are looking into the claim, Beijing Youth Daily reported.
Quanjian released a statement on Wednesday accusing Dingxiang Doctor of libel.
The company demanded a retraction and apology from the platform, and it threatened legal action.
Dingxiang Doctor has said it stands by the allegations. "We are responsible for every single word, and we welcome you to take us to court," it said.
Before Zhou died in 2015, her father, who goes by the pseudonym Zhou Erli, lost a lawsuit against the drugmaker filed in his hometown court in Chifeng, Inner Mongolia autonomous region. The court dismissed his assertion that the company had misled the family over the potency of its anti-cancer treatment.
It ruled in April 2015 that Zhou Erli had insufficient evidence.
After the Dingxiang Doctor article was published, Zhou Erli told news website The Paper that he had gained new evidence, and he plans to file another lawsuit against Quanjian.
His daughter was 4 years old when she was first diagnosed with cancer. After four operations, her uncle appeared on a TV show to appeal for information on a better treatment plan.
After the broadcast, Zhou Erli said he was contacted by Quanjian who arranged for his family to visit the company's headquarters in Tianjin, where they met with the chairman, Shu Yuhui.
"We talked for about 40 minutes, and he told us Quanjian is China's largest base for the research and development of traditional Chinese medicine, and that it had a secret anti-cancer drug that could cure Yang," he told The Paper.
The following week, Zhou Yang's chemotherapy treatment ended and she started taking Quanjian's herbal medicine.
Three months later, doctors found that her cancer had metastasized, and chemotherapy was resumed in March 2013.
By May that year, the girl was in intensive care, yet Zhou Erli said he was surprised to find ads online that falsely claimed his daughter had already been cured, thanks to Quanjian's drugs.
"It was then that I started to think I'd been scammed," he said.
She died in December 2015.