It's that time of the year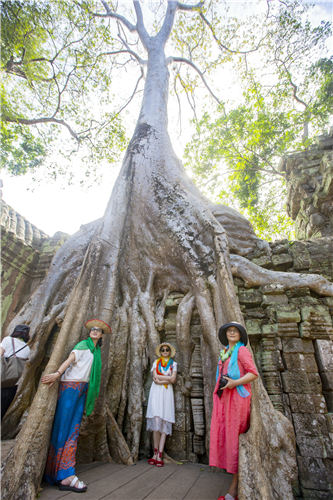 Travel agencies see brisk business with Spring Festival vacationers on the move.
Chinese tourists are expected to make their presence felt in large numbers again during the upcoming Spring Festival holiday.
But many travel agencies are already reporting brisk business by way of bookings, with many Chinese planning to spend their unused paid vacation this month. Favorable visa policies in other countries and Christmas shopping packages are adding to the wanderlust, says Ge Lili, an executive at Lvmama, an online travel agency with its headquarters in Shanghai.
A series of the agency's December products has received more than 1 million bookings in half a month.
Thailand's visa-free policy for Chinese tourists, effective since Dec 1, has produced a significant month-on-month increase in the number of Chinese visiting the country.
Those who booked trips that cover well-known shopping sites in Europe via Lvmama have grown by 60 percent as compared with the same period last year, the agency reports.
Winter in northern China has also driven a large number of mainland travelers to warmer destinations. Many also seek fresher air.
Thailand, Singapore and Japan are the most-popular outbound getaways for Chinese tourists for the Christmas-New Year period, while Hainan province's Sanya, Fujian province's Xiamen and Yunnan province's Lijiang top the domestic list.
Chinese tourists have become a significant force in the international tourism market and have taken the lead in average per capita expenditure during travel abroad, followed by tourists from the United Kingdom, Japan, South Korea and the United States, according to a recent report jointly released by global payment giant Mastercard and one of China's biggest online travel-service providers, Ctrip.
Ctrip saw 690 billion yuan ($100 billion) in transactions from September last year to this September. For about 130 million users of its services, the average annual spending was at more than 5,000 yuan, the travel agency reports.
High-end travelers accounted for 20 percent of outbound tourists, but contributed over 80 percent of the total travel expenditure, according to Mastercard.
Tourism has become a way to understand consumption patterns, especially for holidays such as Spring Festival, and it's one of the best times for Chinese to take their families on trips, says Xiao Yinyuan, an executive in charge of outbound tourism at Ctrip.
Ctrip's December orders for Spring Festival tours so far have increased by 50 percent as compared with the same period last month.
"From the look of things so far, Chinese tourism consumption promises a rosy prospect," Xiao says.
The agency's newly launched private-tour products are being favored by Spring Festival vacationers. The products offer special tour-guide services for two or more people, and allow tourists to enjoy both group-tour services and the flexibility of individual travel, Xiao says.
"One out of every 10 tourists to Japan and Bali has signed up for the private-tour products," Xiao says.
The opening of the Zhuhai-Macao Bridge and the Guangzhou-Hong Kong high-speed railway have increased the number of travelers to Hong Kong via rail and automobile.