Zoologist conducts experiment to keep the skies safe for aircraft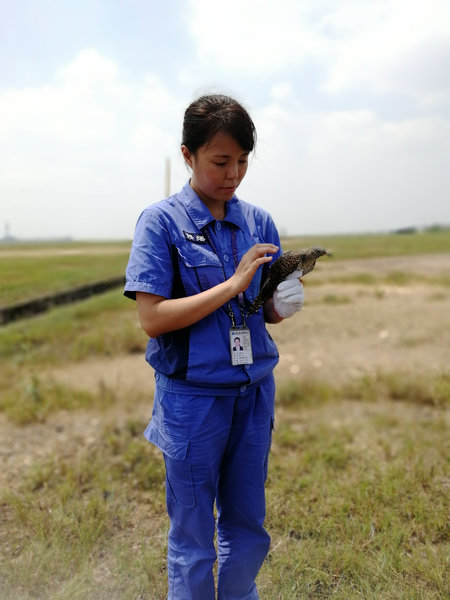 Li Dong grows plants to ensure the safety of aircraft.
The 33-year-old hopes that planting Wedelia trilobata, a low-growing species with yellow flowers and a special smell, will keep birds away from the Nanning Wuxu International Airport since there is no food or nesting space for them.
As there are more flights than before and China's ecology is improving, birds are a major problem in civil aviation. Collisions often occur during takeoffs, the initial climbs and landings, and pose a significant threat to aircraft safety.
"It's like tackling a problem at its source. If we can successfully change the habitats of birds, they won't frequent the airport and such collisions won't happen," says Li, who works at the airport in Nanning, capital of the Guangxi Zhuang autonomous region.
"It will greatly reduce our workloads and economic input, and it's environmentally friendly."
Originally from the Americas, the plant is often cultivated as an ornamental ground cover. It grows quickly and doesn't need much labor to maintain.
Li has spent several years on her ongoing experiment. It will produce results in the next year or so.
In the coming spring, she plans to grow the plant on a 6.67-hectare plot near the airport for her final research.
"As long as the land area is large enough, it will be easier to see its effects and I will get solid academic results via a larger sample," she says.
"I'm really looking forward to it. If it succeeds, it's possible to adopt the method to prevent bird hazards here and promote it to other airports as well."
The common methods of bird strike prevention all over the world are to scare birds away, using gas guns and ultrasonic devices. Some areas also spray pesticide to reduce insects, a food resource of birds.
Li did her postgraduate studies at Guangxi University, where she studied wildlife protection.
She began to work at the Nanning airport in 2011 and was responsible for bird-strike prevention.