Students showcase their skills in the global classroom
Share - WeChat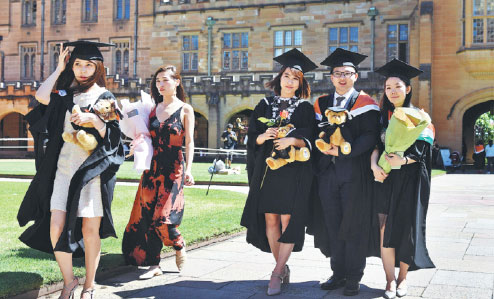 In the late 1970s, only a handful of Chinese studied abroad. Now, the country is the world's largest source of international scholars. Zou Shuo reports.
Editor's note: This is the sixth in a series of stories reflecting China's achievements in a range of fields, including science, law enforcement, education and transportation, resulting from 40 years of the reform and opening-up policy. More stories will follow.
In 1978, when China adopted the reform and opening-up policy, only 860 people traveled overseas to study. Most of them were sponsored by the government, and many were mistaken for Japanese nationals by their peers at universities in the West.
In 1981, the Test of English as a Foreign Language was held in China for the first time, and 615 candidates took the exam in Beijing, Shanghai and Guangzhou, Guangdong province.

In 1984, China started to allow self-financing students to study overseas. Most had to find part-time work to pay their tuition fees.
In 1993, Beijing New Oriental School was established by Yu Minhong. The school offered intensive training for students planning to go abroad via TOEFL and Graduate Record Examinations.
Many English training institutions were established at the turn of the century in response to a significant rise in the number of students hoping to study overseas.
Last year, 608,400 Chinese studied overseas. The figure topped the 600,000 mark for the first time, accounting for a year-on year rise of 11.74 percent and cementing China's position as the world's largest source of international students.
Meanwhile, although developed countries and regions such as the United States and Western Europe remain the most popular destinations, countries participating in the Belt and Road Initiative have started to attract large numbers of students from China.
Last year, 66,100 students, including 3,679 on government sponsorships, studied in 37 BRI countries.
In total, nearly 5.2 million Chinese have studied overseas in the past 40 years. This year, 1,454,100 Chinese students are attending higher education institutions overseas.
Statistics show that between 1978 and 2017 the number of students returning from overseas, especially high-caliber graduates, grew steadily.
At the last count, 3,132,000 - 83 percent - of those who pursued studies abroad had returned to China after graduation.
These returnees are increasingly equipped with the skills required to support industrial development and government strategies for growth, as such they have become an important pillar of the national labor force.