2018 Annual Conference of China University Innovation and Entrepreneurship Education Alliance opens in Xi'an
The 2018 Annual Conference of the China University Innovation and Entrepreneurship Education Alliance opened on Dec 22 in Xi'an, Shaanxi province in Northwest China, to further promote the reform of innovation and entrepreneurship education.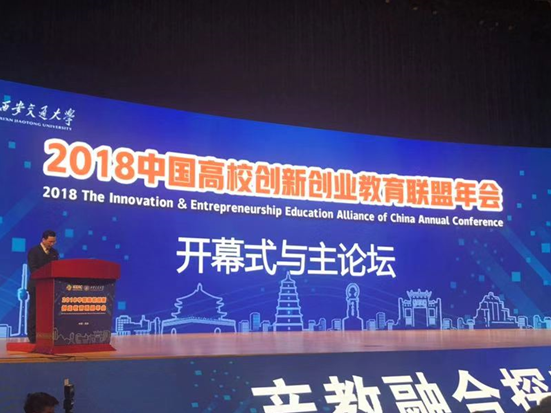 The conference opening ceremony and main forum [Photo provided to chinadaily.com.cn]
Sponsored by the China University Innovation and Entrepreneurship Education Alliance and hosted by Xi'an Jiaotong University and the Xi'an Municipal Government, the conference attracted more than 2,000 officials and experts from more than 500 universities and colleges in 31 provinces, autonomous regions, municipalities directly under the Central Government, and Hong Kong and Macao regions in China, as well as representatives of more than 220 well-known enterprises such as Alibaba and Microsoft.
Wang Shuguo, president of Xi'an Jiaotong University, expressed a warm welcome to all guests and said that the world is facing the challenge of restructuring the economic order. China is also in a critical period of historical development and has put forward new requirements for China's higher education.
"We should hold firmly the opportunity of the times, explore the new mode of training innovative and entrepreneurship talents, and actively lead the development of education and social integration in the 21st century," Wang said.
Qiu Yong, chairman of the China University Innovation and Entrepreneurship Education Alliance and president of Tsinghua University, said that the alliance has 186 universities, 60 innovative enterprises and institutions, and other social organizations. It aims to gather the strength of universities and all sectors of society to provide more high-quality innovative and entrepreneurship education resources.
"The core of innovation is talents. The education of talents to promote innovation and entrepreneurship needs the joint efforts of the government, universities, enterprises and all sectors of society," Qiu said.
During the conference, the second "Beijing-Tianjin-Hebei-Guangdong, Hong Kong and Macao" Youth Innovation and Entrepreneurship Competition was launched and more than 10 sub-forums and seminars were held to build exchange platforms for founders, business representatives and investors of start-up projects and to promote i-project investment and financing implementation.