Italy goes on holiday as security tightens
Share - WeChat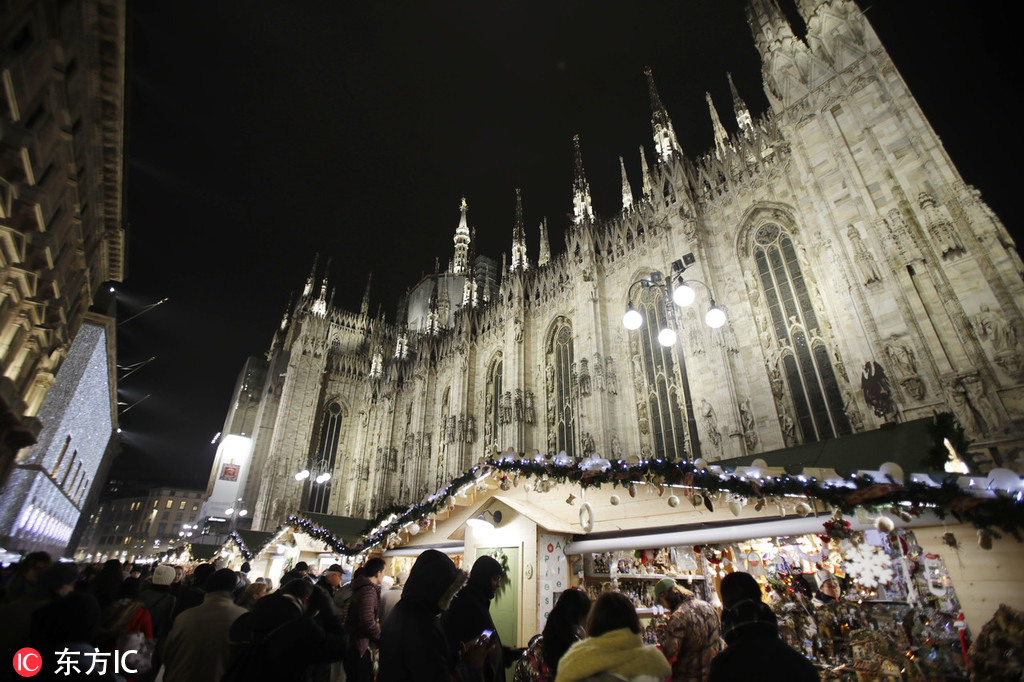 ROME - Millions of Italians and foreign holidaymakers got on the road on Saturday as authorities ramped up security measures at transportation hubs and tourist attractions ahead of the busy Christmas and New Year festivities.
On Saturday, police at Rome's Fiumicino International Airport nabbed a man who was trying to smuggle 4.5 kilograms of cocaine wrapped up as Christmas presents, Sky TG24 private broadcaster reported.
Increased preholiday vigilance at airports has so far led to the arrest of 15 drug traffickers with the seizure of 40 kg of cocaine and seven kg of heroin worth 9 million euros ($10.2 million) overall, according to Sky TG24.
At least 13.5 million Italians are set to travel over the holidays this year, Federturismo tourism industry association said in a statement. Of these, 75 percent plan to visit family in Italy at Christmas, taking off for longer trips beginning on Boxing Day which falls on Dec 26, Federturismo said.
Many Italians will ring in the New Year in European capitals such as London and Paris, plus exotic beach destinations such as the Mauritius islands, the Maldives, Kenya, and the Red Sea, according to Federturismo.
Spending will total an average of 500 euros per capita for a four-night trip within Italy and 1,500 euros per capita for holiday packages abroad, according to the tourism industry association.
Meanwhile, 6 million foreign tourists are expected to visit Italy over Christmas and New Year with arrivals from the United States, France, Germany, Russia, Spain, and the United Kingdom.
Earlier this week, the Interior Ministry announced stiffer security measures in the wake of the Dec 11 terrorist attack on a Christmas market in the French city of Strasbourg in which five people, including an Italian journalist, were killed.
"Higher security … during Christmas holidays: over 1,600 police officers carry out extra checks in 10 large (train) stations: 8,681 people checked, 10 arrested, 39 placed under investigation," State Police tweeted on Saturday, adding "We're also checking luggage with canine units and metal detectors."
Interior Minister Matteo Salvini has said 30,000 police officers will be on board the nation's trains through Jan 6-the official end of the holidays-and there will be increased patrols at train stations, airports, tourist attractions, and places of worship.
Another security concern is the use of pepper spray at New Year celebrations in the wake of a deadly nightclub stampede earlier this month, in which six people were crushed to death after someone used the irritant spray inside the crowded venue.
Mayors from north to south have banned pepper spray from New Year celebrations, La Repubblica newspaper reported on Saturday.
Xinhua