China leads global net revolution
Share - WeChat Editor's Note: This is the fifth in a series of stories reflecting China's achievements in a range of fields, including science, law enforcement, education and transportation, resulting from 40 years of the reform and opening-up policy. More stories will follow.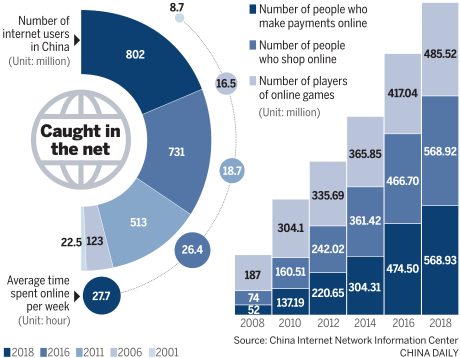 With the world's largest number of internet users, the country is a growing cyberspace powerhouse. Wang Keju reports.
On Sept 14, 1987, a computer lab in Beijing sent China's first email. It read, "Across the Great Wall we can reach every corner of the world."
Two scientists sent the message to counterparts in Germany through an "email node", a rudimentary system used to send emails at the time. The 12-word sentence tumbled through the network at a communication rate of just 300 bits per second, extremely slow compared with today's 21.31 megabits per second.
Seven years later, experts at the Chinese Academy of Sciences in Beijing built the country's first cable connection to the World Wide Web, but at the time they probably didn't realize that the link would presage a digital revolution.
In 2008, the number of internet users in China hit 298 million, surpassing the United States as the world's biggest online population. As of June, the figure topped 800 million, more than half the population, according to the China Internet Network Information Center.
Internet connectivity is changing the lives, lifestyles and consumer behaviors of many ordinary Chinese. Nowadays, typical urbanites begin their day by turning on computers and mobile devices to check emails or social media platforms.
The thriving information technology industry has allowed hundreds of thousands of people to start their own businesses. Some of them have emerged as major players in the global IT industry and are among the wealthiest entrepreneurs in China.
Last year, e-commerce provided 42.5 million jobs, according to the Ministry of Commerce. China is also home to Alibaba, one of the world's leading e-trade businesses, which is bigger than eBay and Amazon combined in terms of sales.
Chinese gamers quickly warmed to e-sports. Last year, the value of the nation's e-sports market reached 5 billion yuan ($724 million), and is expected to reach 8.48 billion yuan this year, according to the 2018 China E-sports Development Report by Tencent E-sports, Penguin Intelligence and China Electronic Athletics magazine.
Last month, thousands of tech entrepreneurs and analysts, along with several heads of state, gathered in Wuzhen, Zhejiang province, for the Fifth World Internet Conference.
President Xi Jinping sent a letter of welcome to the opening ceremony, setting out his vision for the future of China's internet.
Xi wrote that more efforts would be needed to accelerate the development of the digital economy and promote the global internet governance system to help it advance in a more equitable, reasonable way and inject new impetus into the global economy.