China begins space-based broadband project
Share - WeChat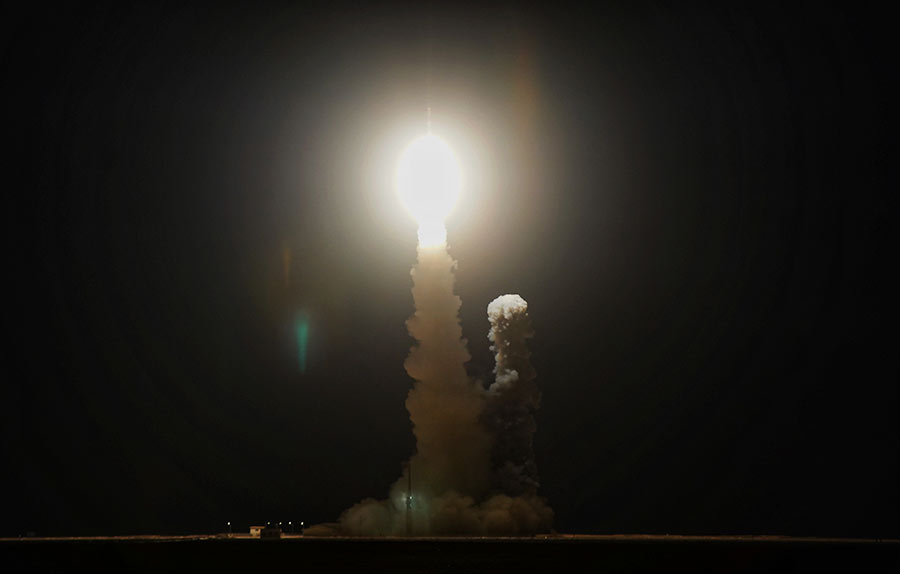 China launched a communications satellite on Saturday, marking the start of construction of a vast space-based communications network capable of covering the entire world with broadband internet service.
The first satellite in the Hongyun project, which was planned by China Aerospace Science and Industry Corp (CASIC) to be the country's first low-orbit broadband communications satellite constellation, was launched on Saturday at 7:51 am on a Long March 11 carrier rocket at the Jiuquan Satellite Launch Center in northwestern China.
The spacecraft is tasked with verifying basic designs of Hongyun satellite and demonstrating low-orbit broadband communications technologies.
Its main payloads are Ka-band transponders and transmission antennae. It also carries several scientific and technical devices to explore Hongyun system's applications in scientific research, environmental survey as well as air and sea transportation, CASIC said in a statement.
Weighing 247 kilograms, the satellite works in a sun-synchronous orbit about 1,100kilometers above earth. It is powered by solar arrays and has a design life of one year, but is expected to operate longer, according to Xiang Kaiheng, Hongyun's chief designer at CASIC Space Engineering Development Co Ltd in Beijing, which is responsible for developing and running the Hongyun constellation.
After a yearlong in-orbit technological demonstration by the satellite, CASIC plans to launch four mass-production Hongyun satellites before the end of 2020 to form a small network for Hongyun's trial run, he said.
The Hongyun project, started by CASIC in September 2016, aims to build a space-based communications network to provide broadband internet connectivity to users around the world, especially those in underserved regions.
CASIC currently intends to place more than 150 Hongyun satellites on orbits about 1,000 kilometers above the ground around 2023, while the constellation is likely to be further expanded in response to market demands, the designer said.
Globally, the concept of running a low-cost, high-performance satellite network to provide space-based communications and internet services has become popular among industry players.
The United States' SpaceX launched two experimental satellites last month to test technologies for its Starlink project, in which tech tycoon Elon Musk proposes to put a total of nearly 12,000 satellites into orbit by the mid-2020s.
Another US firm, OneWeb, plans to launch a satellite constellation of 648 low-Earth orbit microsatellites by the end of 2019, though few developments have been reported.