Scotch whisky draws in Chinese tourists
Share - WeChat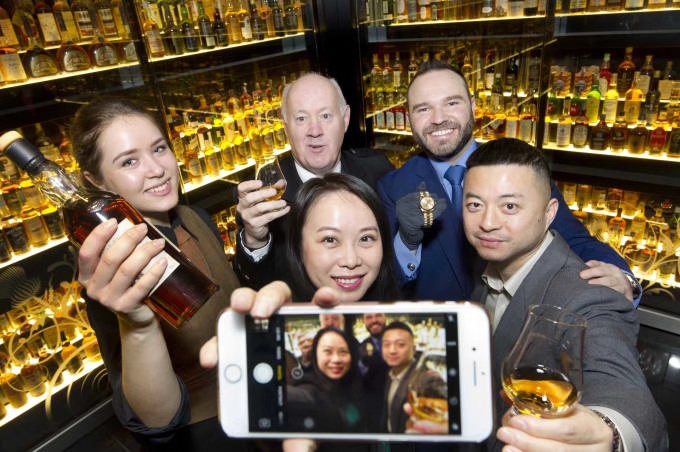 The allure of Scotch whisky was so tantalizing for one Chinese tourist he was willing to part with 9,999 Swiss Francs ($10,066) for a dram of 1878 Macallan single malt in a Swiss hotel.
Unfortunately, a subsequent test found the vintage bottle at the hotel to be a fake, but the chastening story gives a reflection of China's growing thirst for single malt Scotch whisky.
According to the industry body the Scotch Whisky Association, also known as SWA, a record number of 2,026,779 bottles of single malt 70cl Scotch were exported to China in 2017, a surge of 190 percent compared to five years ago, and equivalent in value to 20.1 million pounds ($25.3 million).
Graeme Littlejohn, deputy director of strategy and communication at the association, said: "China is a key market for Scotch whisky with significant potential for growth, and the recent reduction of the tariff from 10 percent to 5 percent has helped exports grow in the first half of 2018."
With China's anti-corruption campaign, whisky sales in China have been on a bumpy journey during the last decade. The total export volume of all types of 70cl bottles of Scotch whisky to China in 2012 peaked at 22.94 million bottles, but plunged to 14.74 million bottles last year.
However, Littlejohn said there is growing evidence to suggest a revival in demand, especially with the strong demand for single malts driven by the increasing number of people in China's middle-class that are developing a sophisticated taste and desire for scotch.
This interest is not only reflected in record volumes of single malt exports to China, but also in the increasing number of visits to Scotch whisky distilleries made by Chinese nationals.
Last year, there was a record 1.9 million visits to Scotch whisky distilleries, Littlejohn said. "Visitor centers reported that the highest number of visitors came from Germany and the USA, followed by those from India, China and Japan
"There is significant room for growth as Chinese consumers learn more about the heritage, craft and quality of Scotch whisky," Littlejohn added.
Diageo, a leading British alcoholic beverages company that owns 28 distilleries, 12 of which have a distillery visitor center, saw a 147 percent increase in Chinese visitors across all those visitor centers in 2017, leading to a 210 percent increase in overall spend.
Katie Waugh, visitor center marketing manager at Diageo, said: "When the Chinese think of Scotland, whisky is the most prominent link. This link with the whisky market in China and the growth in Chinese tourists is why we continue to see a growth in Chinese visitors to the distilleries."
Waugh said she noted Chinese travelers have changed, with many more visitors coming over to Scotland as individual travelers rather than as part of tour groups.
"The demographics of the Chinese travelers have also changed from the baby boom generation to 18 to 34 year olds," she said. "These travelers enjoy authentic experiences and are looking for bespoke tours which is what Scotland and distilleries in particular are great at."
Edinburgh's popular tourist attraction, The Scotch Whisky Experience, is also experiencing the boom prompted by the Chinese visitors. More than 14,400 Chinese tourists visited the site during the first 11 months of 2018.
Rosie Willmot, digital marketing manager at The Scotch Whisky Experience, said: "The number of Chinese visitors to the site has increased by 100 percent in five years.
"In 2017, Chinese visitors made up 7 percent of all visitors to the Scotch Whisky Experience. 2017 was the year that saw China become our third-largest international market, second only to the USA and France."
Willmot believes Chinese visitors are becoming more interested in the provenance of the brands they buy.
"The number of Scotch whisky brands that we work with means that from a retail perspective, we have access to many more exclusive bottlings than other whisky retailers in the city, which is a huge draw for Chinese visitors looking for a souvenir that is more special or high-end," she said.