Long March leads way in space station
Share - WeChat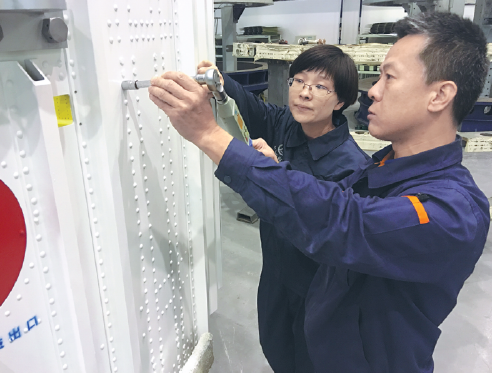 Chinese researchers, engineers share stories of their persevering journey
Editor's note: As China marches toward its goal of building a manned space station, researchers and engineers look back on the progress in the nation's manned space program, reviewing difficulties along the road to success.
When it comes to rocket science, nuts and bolts may appear to some people to be the least-complicated parts. Wang Huiping would argue otherwise.
In the run-up to the ninth flight of the Long March 2F carrier rocket, which lifted three Chinese astronauts in 2012, engineers raised concern that there were no standards for technicians to follow when mounting bolts and screws, which could affect the quality of the expensive, large rocket.
Wang, the rocket's chief structural designer, and her colleagues were tasked with setting those standards, to ensure these small parts function well on the rocket, one of the most important pillars in China's manned space endeavors.
Considering there are nearly 20,000 bolts and screws on a Long March 2F, Wang said she realized it would be a tough assignment. She organized discussions with other designers and technicians, and arranged for theoretical research.
Her team at the China Academy of Launch Vehicle Technology collected and compiled a large volume of information including the usage, position, amount and fastening measures for different types of bolts and screws mounted on different sections of a rocket.
They spent two years conducting experiments on each type of bolt and screw in various circumstances and standards. Finally, Wang's team made comprehensive standards for all kinds of fasteners on the Long March 2F, effectively improving the rocket's reliability.
Fault and our stars
Qi Faren, a pre-eminent space scientist and former head of the China Academy of Space Technology, said researchers must be extremely careful when they design and build a spacecraft because even if a tiny part malfunctions, it will be prone to accident, putting astronauts at risk.
Days before the Shenzhou III mission's launch in October 2001, technicians found there was something wrong with one small electronic component during a routine examination of the spacecraft, Qi said.
Mission headquarters were immediately notified about the hazard, and they decided to double-check all 77 similar components on the spacecraft to determine whether there was only one bad component or more faults.
The next day, a group of electronic component specialists flew from Beijing to the Jiuquan Satellite Launch Center in the Gobi Desert. They conducted a thorough inspection of all components before coming to a conclusion that all of them needed to be replaced to reduce the risk to a minimum level, Qi said.
Though under huge pressure, mission leaders made a tough decision to postpone the Shenzhou III mission to allow engineers to remake the components. More than 400 scientists and technicians who had already been at the launch center for months were withdrawn.
Over the next three months, engineers replaced all the defective parts and re-examined the spacecraft, making sure that it was 100 percent reliable, Qi said, adding that the experience taught Chinese space industry workers the significance of being meticulous and having zero tolerance for technical faults.
The Shenzhou III mission was successfully carried out in March 2002.
The pain barrier
In addition to researchers and engineers, Chinese astronauts have also worked hard to ensure that they are up to the high standards required for spaceflight missions.
According to Li Xinke, Party secretary of the Astronaut Center of China, a pilot needs to be knowledgeable in more than 30 subjects including physics, astronautics and astronomy once he or she is admitted into the astronaut team.
"Normally, these subjects need to be taught for four years at a university, but our astronauts are told to learn them in only one year and must pass all exams to qualify for the next training," Li said.
"In the weightless simulation training, astronauts wear a heavy diving suit with a weight of 160 kilograms and stay underwater for about four hours," he said.
"After the training, each would have lost an average of 2 kg, and they'd be so exhausted their hands couldn't hold chopsticks."
During centrifuge training, an astronaut must endure a maximum gravitational acceleration of as much as eight times their own weight so that they are able to resist some adverse effects when being shot from the planet into the space. Such training is painful, and can distort their faces and compress their breathing, according to Li.
"However, none of our astronauts have used the emergency button to call for a halt in 20 years," he said. "All of them persisted."
China has 16 astronauts over two generations. Among them, 11 have been into outer space over six missions. The selection for the third group of astronaut candidates is underway.
In 1986, a group of top Chinese scientists suggested that the government should consider the possibility of a manned spaceflight and submitted a road map, which was approved by the Party's leadership in 1992.
Thanks to the hard work of Chinese scientists and engineers, the country moved fast toward its goals in manned space programs.
In October 2003, China carried out its first manned space mission, sending Yang Liwei on a 21-hour journey around earth in the Shenzhou V spacecraft.
So far, the country's six manned spaceflights totaled 68 days and circled the Earth 1,089 times.
According to the government's schedule, China will start constructing its first manned space station around 2020.
First, a Long March 5B heavy-lift rocket being built by engineers will put the station's core module into orbit that year. Next, about four manned spaceflights will be made to send astronauts to assemble the station.
The space station is expected to be fully operational around 2022, and is set to operate for at least 10 years. The multi-module spacecraft will be composed of three main parts - a core module attached to two space labs - and will have a combined weight of more than 90 metric tons.