Income gap an acute issue for many nations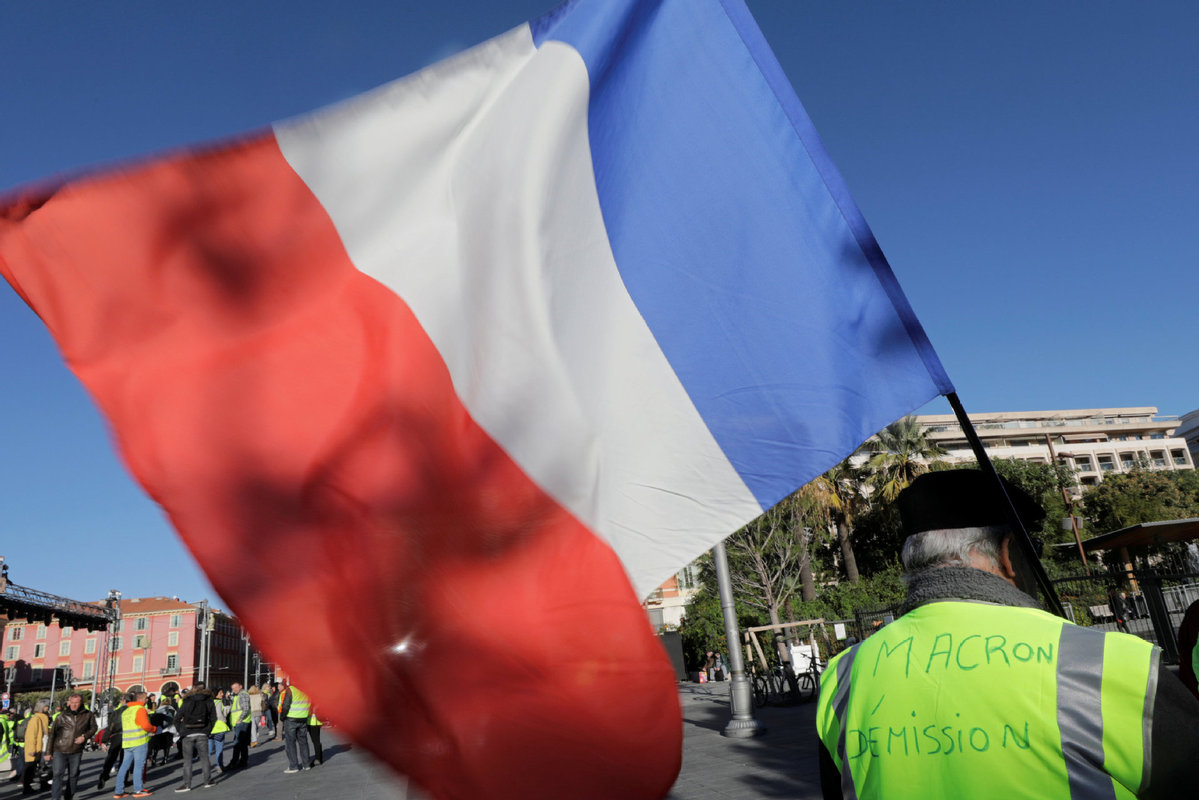 The meeting I was attending in a venue near the Arc de Triomphe in Paris on Friday and Saturday last week was abruptly cut short, as expected, due to a gilets jaunes, or yellow vest, protest. The graphic scenes from the previous weekend that were broadcast on TV time and again-burning cars, looting, and police firing tear gas and rubber bullets-were scary.
Friends had advised me to stay at the hotel and not go near the protest. But they were advising the wrong person, a journalist whose instinct and duty would suggest otherwise.
As I set out toward the Champs-Elysees early on Saturday morning, I met many yellow vests on their way there. They were from different parts of France, such as Normandy and Corsica. Their anger was written on their faces as I chatted with them, despite my limited French and their limited English.
They were indeed furious with the new fuel tax that President Emmanuel Macron proposed early in the year, but they were more outraged with the income inequality and poverty they are trapped in.
Without much prior knowledge about social inequality in France, I was shocked to learn of their frustration at Macron, whom I actually admire.
Most Chinese know France as a rich nation and are unaware of the huge group of people who can't make their ends meet, a situation that is usually associated with developing countries.
Those I spoke to said the heavy tax burden was a major trigger for the protests. Data from Eurostat, the European Union's statistical body, shows that the tax-to-GDP ratio rose across Europe in 2017, with France topping the list of its tax revenue and making up 48.4 percent of its GDP. Belgium follows with a tax-to-GDP ratio of 47.3 percent.
Undoubtedly European countries must effectively address their worsening income gap or face a "revolution" as some yellow vest protesters have called their "leaderless" movement.
The yellow vest movement is reminiscent of the Occupy Wall Street movement that erupted in New York City in September 2011 and swept US cities the following year. I was on the Brooklyn Bridge on Oct 1, 2011, when New York City Police arrested 700 protesters.
It was a controversial arrest despite the NYPD saying it had warned the protesters beforehand. As someone walking backward and taking photos of the demonstrators, I could tell that only those marching at the very front could have heard the warning, not the many hundreds that followed.
The OWS movement was just protesting against the widening income gap and corporate influence in US politics, yet it was crushed by heavy-handed policing. Many of those protesters later became supporters of Bernie Sanders and Donald Trump in the 2016 presidential election.
The income gap in the United States is higher than other advanced economies and has also increased more rapidly in recent decades. The Gini coefficient in the US, which stood at 0.435 in 2016, was the highest of any of the G7 countries, which ranged from 0.330 in France to 0.388 in the UK, according to a Pew survey released in July.
News reports reveal that the top wealthiest 1 percent in the US owns 40 percent of the nation's wealth, while the bottom 80 percent own only 7 percent.
In the past decade, income disparity has also widened rapidly in emerging economies such as China, India, Brazil, Indonesia, and South Africa. It is a pressing issue in many countries, and one that calls for urgent attention and effective action.
The author is chief of China Daily EU Bureau based in Brussels.
chenweihua@chinadaily.com.cn
Most Viewed in 24 Hours
China stories