Report: China makes big soybean buy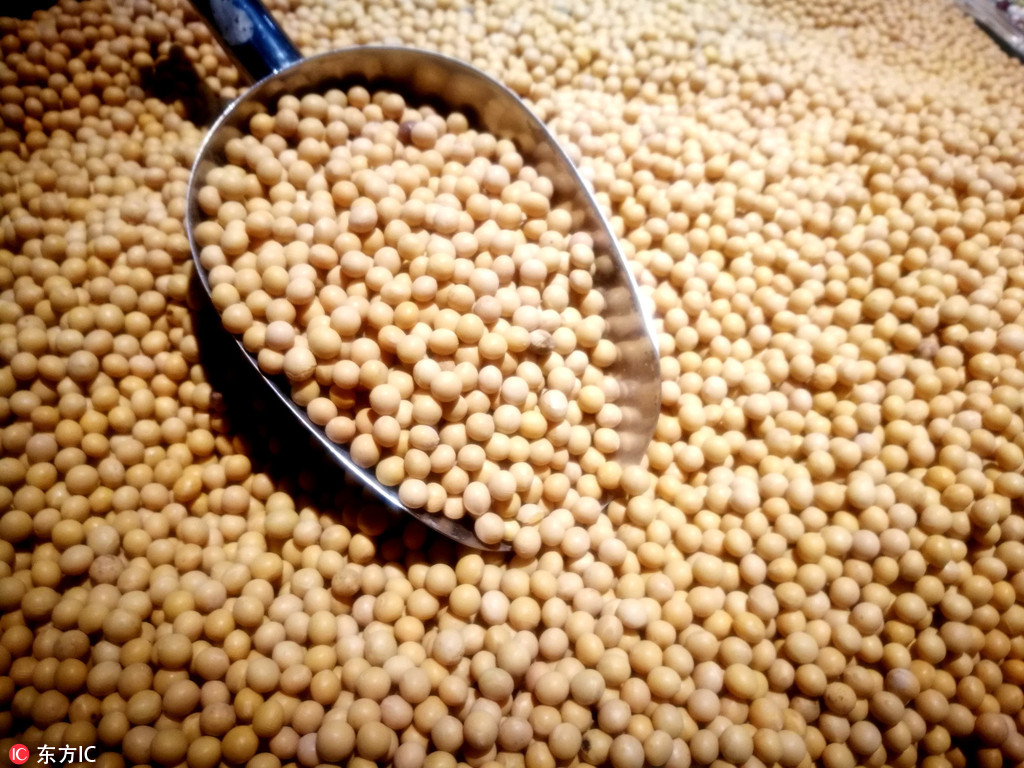 Traders tell Reuters that purchase, which came 10 days after Xi-Trump meeting, worth about $180m
China made a major purchase of US soybeans on Wednesday, according to Reuters, the first sign that the largest buyer of US soybeans is returning to a market that had been disrupted for several months because of an ongoing trade dispute between the two countries.
Chinese companies bought at least 500,000 metric tonnes of American soybeans for no less than $180 million, two traders told Reuters.
The order, coming more than a week after a meeting between the two countries' presidents, in which China is said to have promised "substantial" purchases of US agricultural products, was well received in the US.
"This is obviously positive news for our growers and for US-China trade relations," said Jim Sutter, CEO of the US Soybean Export Council.
US soybean futures on Wednesday hit their highest level since early August, continuing a rising trend that started shortly before the meeting between President Xi Jinping and US President Donald Trump at the G20 Leaders Summit in Argentina on Dec 1.
Conversations between the two sides have been conducted since the meeting, with the latest progress being a telephone exchange among Vice-Premier Liu He, US Treasury Secretary Steven Mnuchin and US Trade Representative Robert Lighthizer.
Described by Trump as a "very productive" conversation, the call allowed the two sides to exchange views on the timetable and roadmap to advance the upcoming trade talks, according to Xinhua.
The soybean purchase is the first major one made after a series of meetings and exchanges between China and the US this month.
The buyers, according to Reuters, are Sinograin and COFCO.
"They could work around tariffs" as state-owned purchasers, said Bryce Knorr, senior market analyst at Farm Futures, who told China Daily in a previous interview that compared with crops from Brazil — a major supplier for China during the trade dispute —US soybeans would be less competitive with tariffs in place.
US sellers include Cargill Inc, the Louis Dreyfus Co and CHS Inc. A trader told Reuters that the Chinese firms bought at least 12 cargoes for shipment between January and March.
A South American trader told China Daily that the total amount of shipments prepared might exceed three dozen, and many of the soybeans would be shipped from the Pacific Northwest while others would go out from the US Gulf.
"We are excited to see that these purchases, if true, were from the Pacific Northwest," said Joe Smentek, executive director of the Minnesota Soybean Growers Association. "Many of Minnesota's soybeans are shipped through the Northwest. We have low foreign-material levels and a high-quality product and are excited to get back to exporting to China," he added.
The US was on pace to have a record level of soybean stocks this year, according to a monthly report published Tuesday by the US Department of Agriculture, which estimated that US soybean stocks for the 2018/19 marketing year would reach 955 million bushels.
A record-high yield this year and the shift by China — which had been importing about 60 percent of all US exports — to Brazil and Argentina was only making it worse.
"In past years, the US has dominated Chinese imports from December through February as our new crop supplies are shipped out quickly before the South American harvest hits the export pipeline, but that pattern has been upended by the trade dispute between the US and China," Knorr said on Tuesday.
"Even if sales to China resume, the additional demand may not do much for prices because world supplies are expected to end the 2018 marketing year at an all-time high," Knorr said.
Contact the writer at nancykong@chinadailyusa.com