Building ties with books
Share - WeChat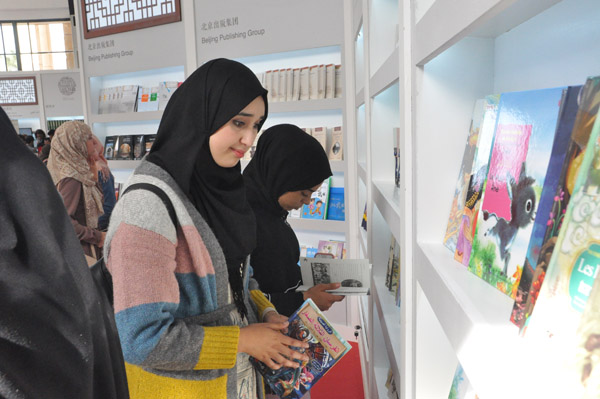 Algerian publishers say they take China as an important partner, and they respect China for being an ancient civilization like the Arabic civilization.
Assia Moussei, the founder of Algerian El-Ikhtilef (meaning "difference") Publishing, is also a medical doctor.
"We're attracted to Chinese history and its present-day stories, experiences and culture," Moussei says.
At first she thought the Algerians' interest was in Western stories and books. Later, after "market tests", she found her readers' eagerness to know about what's happening in China.
The Arab world is happy to see China's rise, she says.
She initially believed the interest was limited to literature. Then, she discovered the fields extended to politics, economics, society, history, culture and children's books.
Her press has released books on China's anti-corruption campaigns and an encyclopedia of history.
Her views are shared by Esraa Abdel Sayed Hassan, director of the Chinese-language department at Ain Shams University in Cairo.
Hassan has been learning, teaching and translating Chinese for 30 years.
"The Arabic readers' interests are wide, and we have yet more to discover and explore about China," Hassan says, adding that she just finished working on the Arabic version of an ancient classic on science and technology by Song Yingxing of the 17th century, and the Fifteen Lectures on Chinese History.
As to the Chinese side, Beijing Publishing Group has cooperated with Arabic publishers since 2007. A total of 100 titles were sold, including novels, essays and children's books.
Huang Jian, president of Jieli Publishing House, the organizer of a publishing forum on children's books during the fair, says he sees promising prospects for the children's book market there. "The Arabic readers tend not to be rejective of Chinese content and thinking for its strengthening of harmony and peace."
Take Algeria, for example - 32 percent of its total population are younger than age 15, while 63.8 percent are under 30.
Hans Anderson Award winner Cao Wenxuan brought some of his key works in the Arabic language to the fair. Writer Zhao Lihong released a new book about dealing with fear, inspired by his son's notes, to local readers.
Children's works were the highlights on the fair. Other works include Moon Stage, Sister Wanda Can Help and Clumsy Wolf.
Most Popular