Forest stands as testament to businessman's bold decision
Share - WeChat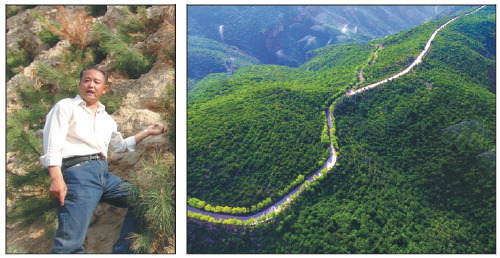 Years of effort transform once-barren mountain into one of Taiyuan's largest parks
When businessman Zhang Junping planted the first tree on Taiyuan's barren Yuquan Mountain seven years ago, he had no idea it would eventually grow into a large, sprawling forest.
Once dotted with abandoned mines and quarries, Yuquan Mountain Forest Park today has more than 4.6 million trees of 106 varieties spread over 475 hectares in northern China's Shanxi province.
After retiring from the People's Liberation Army in the 1980s, Zhang found work as a kettleman in Taiyuan, an industrial worker who melts or cooks substances in a heated container. Later, he founded his own heating company, which employed more than 1,300 people in its heyday.
Once the business had grown, Zhang made a bold decision no one could understand-he took on a contract to plant trees on Yuquan Mountain, one of 21 forest projects planned by the city government about 10 years ago.
"Lots of Taiyuan locals wanted to climb a mountain, but they couldn't find a mountain to climb. Who'd want to pass through a rubbish dump to walk in a mountain?" Zhang, 60, said.
For most of the past century, Shanxi has produced about one-third of China's coal, and Taiyuan is located in the center of Shanxi's main coal-producing area. Almost all of its mountains were destroyed after years of excessive mining.
Zhang, who is known locally as "the man who plants trees on cliffs", said he believed that people's pursuit of a healthy living environment would lead to more business opportunities, and that the transformation of the growth model from resources-driven to innovation-driven was inevitable.
"That's why I didn't hesitate in making the decision to divert my attention from burning coal to repairing and planting," he said.
However, many of the villagers that Zhang hired to reclaim the wasteland quit after just a few days in the mountains.
A gardener at the forest park who gave only his surname, Sun, took part in the early cultivation work. "We just found it a hopeless task to turn the mountain filled with mine waste into a sustainable project," he said, adding that villagers thought only fools would plant trees on such barren land.
They had a point. Back in late 2011, the area Zhang was contracted to plant had at least 50 deserted coal mines, 30 gypsum mines and 100 disused quarries, as well as five large landfill sites.
Zhang worked alone on the mountain and employed villagers to carry soil in baskets. However, all 120,000 trees planted in the first two years died due to drought.
In the following years, Zhang built 16 reservoirs with a total capacity of over 300,000 cubic meters on the mountaintop and an automatic irrigation system that has a pipeline with a total length of 220 kilometers. He also built more than 100 km of road to make it easier to climb the slope.
He regarded the saplings as his babies, and invited professional agricultural technicians and horticulturists to take care of them. Now, the survival rate of the trees has reached the same level as on the plains.
Still, Zhang often invites experts to analyze the cause of a tree's death to see how it could have been prevented.
Over the past seven years, the businessman has invested more than 560 million yuan ($81 million) into planting trees and restoring the ecology and environment on Yuquan Mountain.
Zhang correctly predicted the transformation of the economic structure and the shift in government priorities.
Taiyuan has not only shed its reputation as one of the most polluted cities in China, but it has also become one of the cleanest cities in North China, with residents enjoying blue skies and fresh air for most of the year.
Yang Zhimin, a civil servant in Taiyuan, said of Zhang: "He's man who likes using his mind. An outstanding man, a man with stories. His office building on the mountain is kept as spotless as an army barracks."
The park, which is free to the public, receives about 1 million tourists a year, according to its director, Sun Zhanliang.
Zhang mainly relies on income from the entertainment facilities and rents paid by food outlets in the park to cover maintenance costs.
Sun said that, although he is a successful businessman, Zhang calls himself a tree planter these days.