Painting helps boost Dong farmers' incomes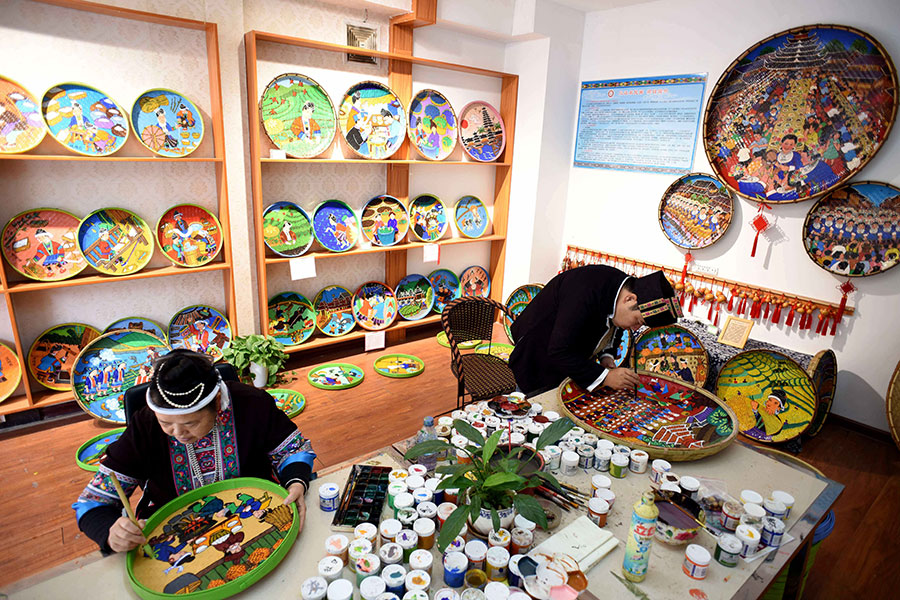 The bright colors and local themes of paintings by members of the Dong ethnic group in Sanjiang Dong autonomous county, in southern China's Guangxi Zhuang autonomous region, have made them popular with tourists and collectors.
Many of the painters are local farmers, like Yang Gongguo, who created a sensation among his peers in 1994, when he sold his first work to a gallery in Shanghai.
"The sale was amazing and encouraging as we began to be aware that there is a market for us," Yang, in his 60s, said. "From then on, our paintings started to gain fame and lots of farmers have joined our team."
More than 300 farmers are now engaged in painting in Sanjiang.
Farmer-painter Yang Gongcun has turned his house into a studio, where he and his wife can do some drawing after completing their farm work.
"Painting can both kill time and make some money," said Yang Gongcun, who sold nearly 30 paintings last year, earning 12,000 yuan ($1,740).
Early examples of Dong painting can be found at the county's drum tower and on stilted buildings and bridges.
Traditional activities like dancing hand-in-hand before the drum tower, singing in a chorus on stage, and growing rice and fish in the terraced fields provide the inspiration for Dong themes.
"A long time ago, villagers in their spare time would paint on cloth with indigo and soot or doodle on the ground with a twig just for fun," said Yang Gongguo, who was among the earliest to receive professional training.
The local artists attribute their success to government support. In the 1980s, the local government offered a training program in painting techniques. Yang Gongguo applied immediately and his skills improved greatly afterward.
The government set up a Dong painting cultural heritage base in 2013 and provides 50,000 yuan a year to support farmer-painters. The folk art has attracted foreign tourists, and professional art institutions have acknowledged Dong painting's cultural and aesthetic values.
Sanjiang is also known for its ethnic festivals, traditional clothing, skillful embroidery, and the exquisite craftsmanship of its wooden architecture-all of which laid a firm foundation for the emergence of Dong painting.
"The charm of Dong painting is in its imagination," said Yang Qingli, chairman of the local artists' association. "There are no rules to follow in creating a Dong painting if compared with oil painting or landscape painting.
"Drawing skill is not necessary for painters. But what they paint must come from the Dong ethnic group people's life."
In recent years, Dong painting has diversified its formats. It is now used on items ranging from porcelain to winnowing fans to make it more marketable.
"Dong ethnic painting in Sanjiang generated more than 1 million yuan in revenue last year," Yang Qingli said. "I hope we can further boost this industry by applying the painting element to products for everyday use."