Beijing removing clumsy English translations in public places
Share - WeChat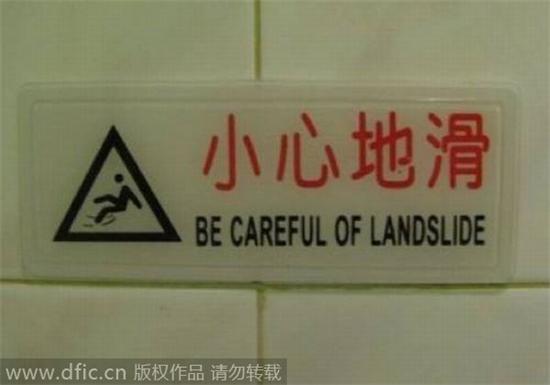 BEIJING -- Do not glissade when you see a sign in a washroom telling you to "Slide carefully!" as it actually means "Caution wet floor!"
Likewise, do not look for a bowl when a bank sign asks you to "wait outside a rice noodle." Instead, search for a yellow line, or "one-meter line," which is spelled the same as "a (serving of) rice noodle" in Chinese.
Such mind-boggling mistranslations, once commonplace in Beijing, are quickly disappearing from the Chinese capital's public signs thanks to a new correction campaign to make the city more foreigner-friendly.
Beijing's foreign affairs office said it has vetted over 2 million Chinese characters on signs and notices that have English versions since a national standard on English translations in public service took effect on Dec 1, 2017.
Working with Chinese and foreign experts and volunteers, the city this year has run translation checks in the central business district (CBD), international hotels and other areas frequented by foreigners, as well as public venues like schools and hospitals, the office said.
"Translations of public signs not only help foreigners, but their quality also shapes the image of a city," said Chen Mingming, executive vice president of the Translators Association of China and advisor to the correction campaign.
Some mistranslations were a result of verbatim translations such as a shop sign that reads "name smoke name liquor" (branded cigarette and liquor) on Beijing's shopping street Wangfujing, while some others stumbled at polysemantic Chinese words like an emergency exit whose English translation sign reads "export" (export and exit share the same word in Chinese).
The foreign affairs office said they went on hunts for erring translations in some city areas, but most mistakes were reported by the public on a website that offers rewards for such tip-offs which started this March.
Zhang Qian, vice head of the office, said signage of private businesses where owners often resort to the Internet for quick solutions, have formed a new citadel for wrong translations.
She called for passing new regulations on such translations as the city prepares for the 2022 Winter Olympics.
Translations in Beijing's public spaces and restaurants were first thrown into the limelight as the city geared up for the 2008 Olympic Games. Since then, increased public awareness has helped remove many mistranslations from official signs.