Law ought to ban smoking in all public places
Share - WeChat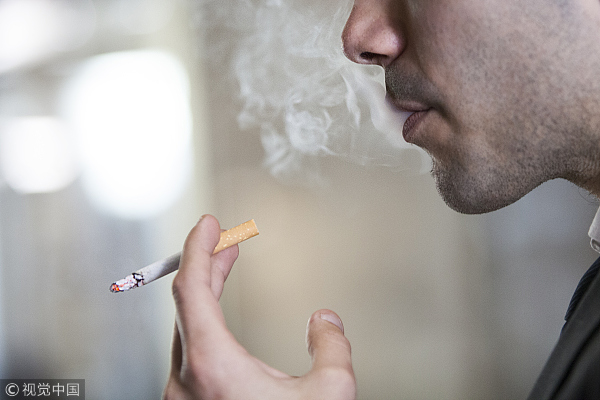 Over the past half a year since I moved to Beijing to be the World Health Organization representative in China, I have seen for myself and have been encouraged by the progress made by cities to make public spaces smoke-free.
Recently, I was in Xi'an, Shaanxi province, to celebrate the city's smoke-free regulation, which took effect on Nov 1. During my time in China here, I have realized how important such bans are and how much people appreciate them, even many smokers, who realize that such bans also protect their family members, particularly children, from the harmful effects of secondhand smoke.
Becoming 100 percent smoke-free starts with the political will to make it happen. The Chinese government demonstrated its commitment in 2003 when it became party to the WHO Framework Convention on Tobacco Control. It reiterated that commitment five years ago this December, when the Communist Party of China Central Committee and the State Council, China's Cabinet, released a notice calling for government officials to "walk the talk" by not smoking in public places or at public government events. More recently, President Xi Jinping's Healthy China 2030 vision contains specific targets to reduce adult smoking by the year 2030.
However, while there has undoubtedly been progress, it has been slower than public health officials and national tobacco control advocates had hoped. The momentum is now at the sub-national level, where governments are being responsive to local residents who support smoke-free policies.
Cities such as Beijing, Shanghai, Shenzhen, Guangdong province, and Xi'an are at the forefront of the diffusion of the smoke-free movement in China. This public health innovation is leading the country's tobacco control charge from the "bottom up", successfully enforcing smoke-free regulations and changing social norms through targeted public health campaigns.
Now other places are following their lead. Hangzhou, Zhejiang province, introduced a smoking-control regulation that bans smoking in indoor public places, workplaces and public transportation, which comes into effect on Jan 1, 2019. In Zhangjiakou, Hebei province, one of the host cities for the 2022 Winter Olympics, its draft smoking-control regulation recently released for public comment forbids even the use of electronic cigarettes in public places where smoking is banned, thus reflecting the changing landscape of smoking and the need to protect the public from all forms of tobacco, not just cigarettes.
Guangdong has emerged as the first province that might go 100 percent smoke-free. At present, the proposed regulation in Guangdong would apply only to urban areas, cities and counties; rural areas would be exempt. Likewise, Hangzhou's regulation offers entertainment places, hotels and restaurants an unlimited grace period for compliance. Such gaps and loopholes make enforcement more costly and problematic, and harder to assess the positive health benefits.
What is needed urgently and long advocated by China's tobacco control champions is a nationwide ban on smoking in public places. The second draft of the Essential Health and Health Promotion Law provides another opportunity for further progress. While the current draft misses an opportunity to call for a national ban on smoking in public places, it is encouraging to see that it highlights enhanced supervision and enforcement of smoking bans, and includes strong language on pricing measures and tax. In subsequent revisions, the draft law must ensure that cities and counties wishing to adopt smoke-free regulations should be allowed to do so even before provincial or national level regulations are adopted.
From the leadership commitment at all levels to the Chinese people that are striving for a better life, I have full confidence that China can make even greater progress toward making all its public places smoke-free.
The author is WHO representative in China.
Most Viewed in 24 Hours
China Views