Rocking with Kaiser Kuo in rain
Share - WeChat China Reform and Opening – Forty Years in Perspective
Rocking with Kaiser Kuo in rain
Editor's note:Laurence Brahm, first came to China as a fresh university exchange student from the US in 1981 and he has spent much of the past three and a half decades living and working in the country. He has been a lawyer, a writer, and now he is Founding Director of Himalayan Consensus and a Senior International Fellow at the Center for China and Globalization.
He has captured his own story and the nation's journey in China Reform and Opening – Forty Years in Perspective. China Daily is running a series of articles every Thursday starting from May 24 that reveal the changes that have taken place in the country in the past four decades. Starting this month, China Daily will run two articles from this series each week – on Tuesday and Thursday. Keep track of the story by following us.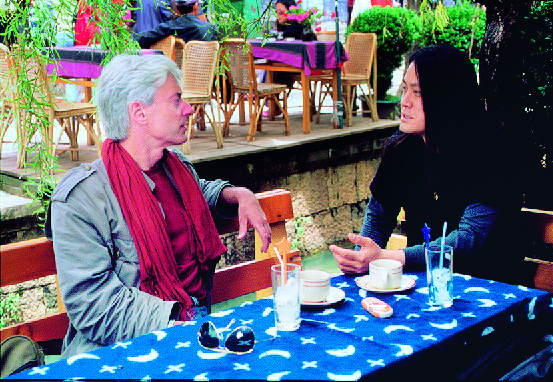 2002, July: I arrived at Jade Dragon Snow Mountain Music Festival. The rock concert had begun and it was already dark. There was no snow, only rain. I could not listen to the snow melt because the music was too loud. The music was being drowned in the rain. It rained throughout the concert but this did not prevent a huge crowd from climbing to the mountain's foot, already 3,000 meters above sea level, to listen to the music. The rain created a special effect, forcing stage lights to split into smithereens of fractured kaleidoscopic lights against the puncturing raindrops that left the performers and audience soaked. I wandered through the crowd, through the music, through the rain. As kids and police danced, the effect was surreal, explaining why so many had come out for the concert despite so much rain.
In the morning, it was sunny and fresh, the feeling of clarity after a rain. I called Kaiser Kuo, one of the first and perhaps the last of China's hardcore rock stars. Founder of legendary rock band Tang Dynasty, he was now heading another band named after another dynasty, Spring and Autumn. We met by a river in the old city of Lijiang for coffee. The river ran past cafes, thus giving the place an air of Venice. The coffee was dark Yunnan. It had that pungent oily smell of Yunnan hillside slopes, cut by hands of ethnic tribes wearing clothes passed down from grandmothers to mothers to daughters, and the smell of rain. I stared into the cup of coffee looking for Shangri-la. I guess I was not looking hard enough. So I asked Kaiser where l should look next.
"How did your concert go last night?" I asked him
"Extremely well, the crowd was really enthusiastic. We were sort of the only band left with long hair. Even though Spring and Autumn is a new group, we still carry the fame of my old band, Tang Dynasty."
"Many are calling this music festival the Woodstock of China. Is it?"
"I do not think it is going to be the seminal defining event in the musical life of a whole generation. But it is a start. People flew in from all over China. There was a huge group from Kunming and another from Sichuan as well. The Beijing rock crowd was also here. There are only a few towns in China that have become centers for rock music. One of these cities is Kunming, another is Chengdu. People fall in love with these towns. There is something really great and cool about these places. Beijing, of course, has always been China's main center for rock and roll. In fact, the entire idea for this music festival was started by Cui Jian, and it's a great start."
"Why is China's music scene drawn to Lijiang to hold a Woodstock-style festival? Will Lijiang become the next rock-and-roll town in China?" I asked. "Is there some kind of search for inspiration in Shangri-la taking place now among China's music circles?"
"Frankly, I am not sure if the Lijiang musical festival itself is the manifestation of this tendency, and I don't think Lijiang is going to become a center of rock. Like other things in China, the Shangri-la idea is a great attraction for the west, which is the whole thing behind this New Age music. There are many people in the west who are familiar with Shangri-la, even if they have only heard of a utopian place where people do not age. Yes, there are many people who come here searching for Shangri-la. But in reality, the westerners and visitors who come here are not really searching for Shangri-la; they are searching for beautiful scenery, ethnic minorities with beautiful costumes, and the gorgeous architecture. But the real irony is that most people who come here are still big groups of tourists. They are not going to see the charming little villages. They need to sing karaoke. Sure, for experimental experience, you can go and have a Tibetan barley mash with yak meat if you want. But there are always pizzas around.
Look, in Dali, there is a 'Foreigners' Street'. It happens everywhere in this region that opens to tourism."
"Shangri-la never existed in the first place, it isn't a real place. There may be some real articles talking about it, but it's a meaningless idea. There are many other places like Kunlun Mountain or Penglai Mountain. Every culture has their own secret places where people never age and everyone is peaceful and happy. Native Americans had a lot of ideas like this. Indian culture has such ideas in South Asia. In European civilization too, we have Thomas Moore, we have Plato's Republic. These are not real places. They are only in your mind. But it never hurts to keep looking."
I had to keep looking. The snows were melting in the rain. They were rushing down a creek in Lijiang, beneath delicate stone bridges, past banana pancake cafes lining old canals twisting along narrow alleyways. A long line of tourists were walking on ancient stones, searching in an orderly manner, behind the shadow of a young gift girl in a yellow baseball cap carrying a yellow flag. She was leading the tourists to Shangri-la.
Please click here to read previous articles.
Most Viewed in 24 Hours
China Views