Italian orchestra gives a taste of opera and symphony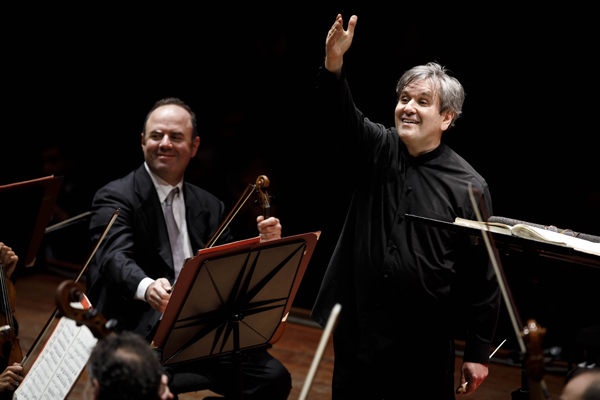 Orchestra dell'Accademia Nazionale di Santa Cecilia, a Rome-based symphonic orchestra led by conductor Antonio Pappano, is offering Chinese audiences a mix of opera and symphony.
Santa Cecilia, founded in 1908, was the first Italian ensemble to dedicate itself to symphonic repertoire instead of opera.
The orchestra that began its weeklong Chinese tour in Hong Kong on Thursday, will land in Dalian, Liaoning province, on Sunday and will perform in Beijing and Shanghai.
The orchestra's repertoire comprises musical programs with strong emotional contrast: Russian composer Rachmaninoff 's Piano Concerto No 3 and Beethoven's classical pieces.
Speaking of the selection of the Russian composer' pieces, Pappano says they fit the Italian orchestra well.
"Italian and Russian languages both have ups and downs. They have a sense of direction, which means the melodies are clear to my orchestra, who know how to play them well," says the 58-year-old, who has been the music director of Santa Cecilia since 2005.
The orchestra is part of the National Academy di Santa Cecilia, which was born in 1585 and is one of the oldest musical institutions in the world.
Pappano is also the music director of the Royal Opera House at Covent Garden in London, one of the world's most important opera houses.
For him, symphony and opera offer a balance. And the orchestra, says the conductor, has a very clear identity with the opera inside.
"Opera is part of its DNA and tradition. And they (the musicians) must know what to express, how to tell a story and how to create the atmosphere. It helps strengthen the identity," says Pappano, speaking about the advantages of the Italian orchestra that also does recordings for opera.
The Russian composer's repertory which it will present is like opera, says Pappano. "It's very dramatic and strong in emotion."
Pappano says all music should tell stories - but not a specific one - to communicate with its audience, by combining visual and narrative elements.
"I feel like I am swimming in water - very natural and comfortable," he says of switching roles from an opera conductor to a symphony conductor.
Pappano, who was born to Italian parents in Britain, learned to play the piano at an early age for his father's music students.
The family moved to the United States later and there he worked as a repetiteur for the New York City Opera when he was 21.
Separately, he has conducted symphonic repertory in the US and Europe, and awards for his conducting, including the gold medal of the Royal Philharmonic Society in 2015.
The orchestra led by Pappano performed in Beijing four years ago, a city which he says is very interesting.
The orchestra will perform two concerts in Beijing next week on Tuesday and Wednesday.
The first concert will feature Russian pianist Daniil Trifonov, who was born in 1991 and won a Grammy for his recording of the Transcendental Etudes by Liszt for Deutsche Gramophon. The soloist will play Rachmaninoff's Piano Concerto No 3, a demanding piece both in terms of skill and energy.
The second concert will feature Chinese pianist Chen Sa, who rose to fame at 16 in a memorable concert broadcast live by the BBC with the City of Birmingham Symphony Orchestra. She will perform Beethoven's pieces, a contrast to the strong and dramatic pieces from the Russian composer's repertory.
"His knowledge and experience in both opera and symphony is an advantage in terms of working with soloists," Chen says, speaking about performing with Pappano. "I hope we can have good chemistry."
The orchestra has had a very busy schedule since Nov 15 when they performed in Seoul. And its ongoing tour of Asia covers seven cities.
Speaking about her preparations, Chen says, "Although there's not much time left for rehearsals, I have confidence because Pappano is good at opera conducting, which is a more demanding job."
Referring to Chen, Pappano says she was chosen to perform with the orchestra to attract young audiences.
"There is little doubt that the Asian market has more youngsters compared to Europe, where the majority of the audience is elderly."
Every three or four years, the orchestra tours Asia, including China.
And Pappano looks forward to his Chinese tour to learn more about the vast nation, which he says needs time.
dengzhangyu@chinadaily.com.cn