EU ties key for global economy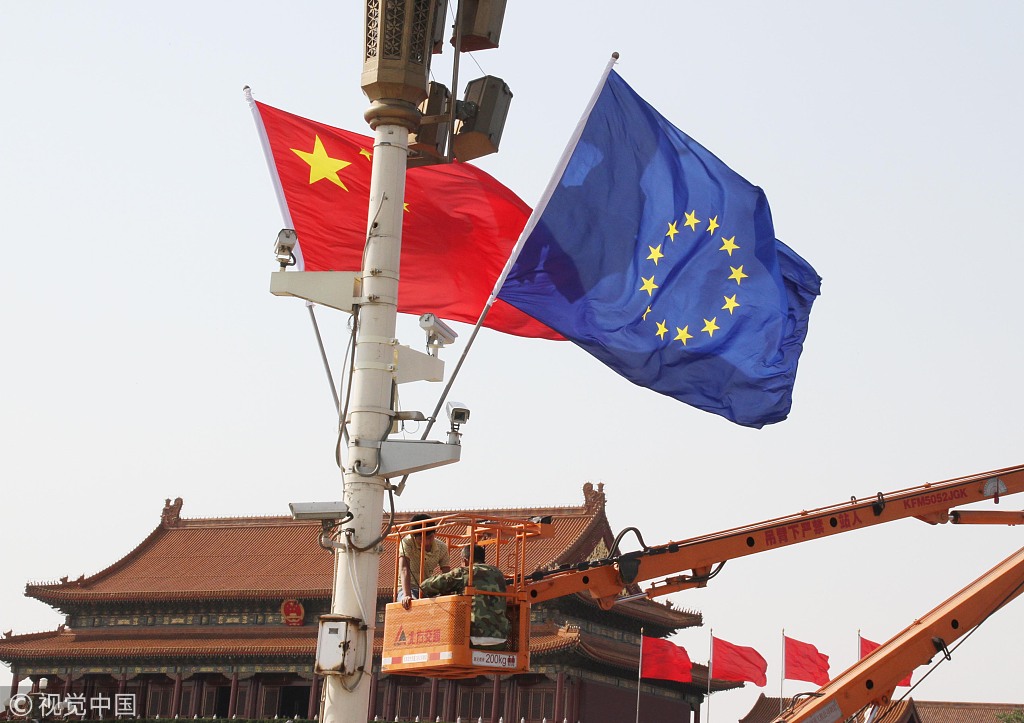 Experts: Nation should join hands with bloc to safeguard free trade
Closer collaboration between China and the European Union is crucial to uphold multilateral collaboration frameworks and ensure global economic stability, Chinese and European commentators said.
Their comments come at a time when China is increasingly opening up its market to foreign access and championing global connectivity through the Belt and Road Initiative, despite the growing threat of unilateralism and trade protectionism.
"China and the EU should join hands to cope with new changes in economic globalization by persisting in free trade and multilateralism as the focus," said Chi Fulin, president of the China Institute for Reform and Development.
"Speeding up bilateral and multilateral free trade processes will not only release the huge potential of China-EU cooperation, but also bring good news to economic globalization and the world economy," Chi said. China's efforts to upgrade its manufacturing industries and grow consumption and services sectors provide abundant China-EU collaboration opportunities, he added.
Bernard Dewit, chairman of the Belgian-Chinese Chamber of Commerce, said win-win collaboration opportunities are particularly abundant as China enters the next stage of reform and opening-up, which is also a process of China's further integration into the global economy.
"China and the EU are both strong advocates of free trade. Closer collaboration can foster win-win results for both partners and other economies along the Belt and Road trade routes," he said.
Dewit added that the inaugural China International Import Expo in Shanghai is a particularly good example of China's commitment to liberalization, and the strong attendance at the expo by European companies shows their eagerness to engage in trade opportunities with China.
China is currently the EU's second-biggest trading partner, while the EU is China's biggest trading partner. Bilateral trade in goods rose from $4 billion in 1978 to $616.9 billion in 2017, according to Chinese government statistics.
In 2014, President Xi Jinping proposed that the two sides should forge China-EU partnerships for peace, growth, reform and civilization to inject new impetus into China-EU cooperation, during his meeting with Herman Van Rompuy, then president of the European Council. The four principles have since guided the development of China-EU ties.
At the 20th EU-China Summit in July, China and the EU affirmed their commitment to further collaboration to consolidate economic and trade relations and work together on the basis of mutual respect, fairness, justice and win-win cooperation.
Angel Saz-Carranza, director of the ESADE Center for Global Economy and Geopolitics, said the growing threat of protectionism in recent times has made open and collaborative China-EU relations more important. He urged the two governments to work on establishing further clarity in investment rules.
"Currently, several EU states have their own processes to examine and clear foreign investments in certain sectors of national and strategic importance. The EU could consider doing these clearances at a central level to improve efficiency and clarity for investors," Saz-Carranza said.
He added that speeding up negotiations for the bilateral investment agreement, which started in 2013, is also key to providing investors on both sides with predictable, long-term access to each other's markets.
Dewit added that further establishing cultural and education links between China and the EU is also important in ensuring mutual understanding and trust, which creates a foundation for solid business and political partnerships.
This year is China-EU Tourism Year, with both sides staging activities to expand tourism links. These activities already have given tourism flows a boost and benefited more than 16,000 Chinese and European tourism businesses, according to the European Commission.