Chinese investment can boost Nigeria's industrial transformation
Share - WeChat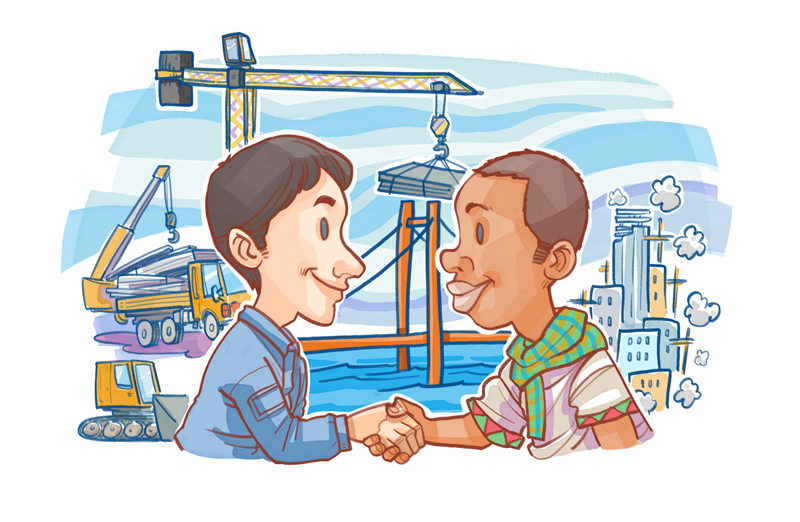 Transformation from agrarian-based to industrialized economies and eventually becoming high income post-industrialized economies are the central objectives of African economies. The manufacturing industry, undoubtedly, is the main engine that drives industrialization and the attendant economic growth. For instance, developed economies like Germany, Japan, United States, United Kingdom and France were built through uncompromising investment agendas that sought measurable returns on investment (ROI) across all economic sectors, Thus manufacturing, ultimately, birthed developed economies.

As developing countries, especially African nations, struggle to industrialize their economy, China, whose economy is second only to that of United States, is seen as a new model for development by the developing countries as it has proven that domestic economic transformation through manufacturing is a strong means for getting off underdevelopment. Potencies of industrialization range from strong infrastructural development, advanced economy, poverty reduction, employment opportunities and improved health system.
However, Africa is yet to climb the value chain of mineral processing and manufacturing as the continent is still at the initial stage of industrialization. Nevertheless, most African countries remain relatively backward due to absence of efficient basic infrastructure and compromised attitude toward the implementation of the right policies that attract and drive industrialization, so Africa is constantly denied of the opportunities for more robust, sustainable and diversified economy.
On the other hand, China's cooperation with Africa is clearly targeted toward long-term development projects such as construction of airports, ports, roads, refineries, railroads, power generation and establishment of special economic zones to enhance trading, (e.g. Kenya-Mombasa railway, Abuja–Kaduna railway and Lekki Free Trade Zone). Stressing the need for development orientated projects President Xi Jinping during the FOCAC summit held in Beijing this year, warned that resources for cooperation are not to be spent toward "vanity projects", but toward commercial and environmentally sustainable development projects, therefore African economies are presented with opportunity to seek synergies with China to build a road of high-quality development appropriate to national conditions, and beneficial for both parties as the continent frequently seems to be overlooked by Western economies.
More so, both China and Africa share a similar dream and aspiration for development and China is willing to work with the African people to build China-Africa cooperation as a role model for South-South Cooperation. Through the Belt And Road Initiative African economies could attract such funding to add value to their natural resources and produce commodities, which will help the continent to utilize its full potential of natural resources, which could be exported to China on a value-added basis. China is actively seeking to seize fresh economic opportunities in higher-value-added productive activities as her four decades of demographic dividend gradually culminate.
Nigeria, currently the seventh-largest globally, is endowed with resources, young and growing diverse population presents an opportunity to reap a "demographic dividend" (through harnessing her human resource) and also provides a huge market for investors. The oil-rich country was recently tagged among the poorest globally; this could be traced to the much dependence on oil, while the other sectors of the economy have been poorly developed as well as underutilization of her manpower. This has prompted the Nigeria government to opt for more options to diversify and industrialize its economy as well as to train more talents who would be able to shoulder the responsibility in this new era and also creating more employment opportunities.
Manufacturing unarguably possesses multiplier effect to any economy especially the growing economies as every one dollar spent in manufacturing produces another two dollar which adds to the economy and for every manufacturer, there are four employees, making a manufacturing economy strong and sustainable. Indeed, shifts in manufacturing can affect the larger economy significantly. As such, higher-value manufacturing is the clearest route for Nigeria to pursue job-generating growth and modern agriculture and services, which would bolster continental integration and promote sustainable development.
Manufacturing is inevitably a factor that drives socio-economic transformation, as such Nigeria need to constitute and implement the right policy that will favor and strengthen the manufacturing sector to boost industrialization and job creation which will in turn boost the economy. Since the inception of FOCAC forum and following the financial crisis of the western economy in the past decade, Nigeria, as well as African countries, have turned toward emerging economy like China, whose presence on the continent has helped to boost African economies through their construction of infrastructure (ranging from distribution grids to pipelines, airports, ports, roads, refineries, railroads and power generation), and gradual relocation of their companies to Africa.
Relocation of Chinese companies to Africa has been linked to financial incentives from African economies such as the currency devaluation against the RMB, high import tariffs, especially on electronics, the EU's preferential treatment to exports from Africa compared to exports from China, the preferential treaties such as the United States Growth Opportunity Act (AGOA) and the EU's "Everything But Arms (EBA)" initiatives. All these makes producing in Africa more attractive. Presenting a big opportunity for Nigeria's policymakers to seize and transform into Nigeria's industrial revolution thereby creating novel industries and employment opportunities.
China's investment in Nigeria grew by 27 percent in 2016, and increased to 33 percent in 2017, China has already financed over $22 billion worth of projects in Nigeria, and China's total investment in Nigeria has climbed to $15 billion. The building of the Lekki Free Trade Zone possesses some economic significance as it will help to reduce the country's reliance on imports and also play a role of extending the Belt and Road further to the West African countries.
Nigeria possesses the required qualities to become another world manufacturer but also needs to put in policies that will help them engage China, while China welcomes their cooperation on a win-win platform.
Edeh Emmanuel Chidiebere, from Nigeria, is currently studying at Zhejiang Normal University, Zhejiang province. He is a master's student of Chinese language and also a beneficiary of OBOR through FOCAC.
The opinions expressed here are those of the writer and do not represent the views of China Daily and China Daily website.
Most Viewed in 24 Hours
China Views