Marx's final resting place in London is upgraded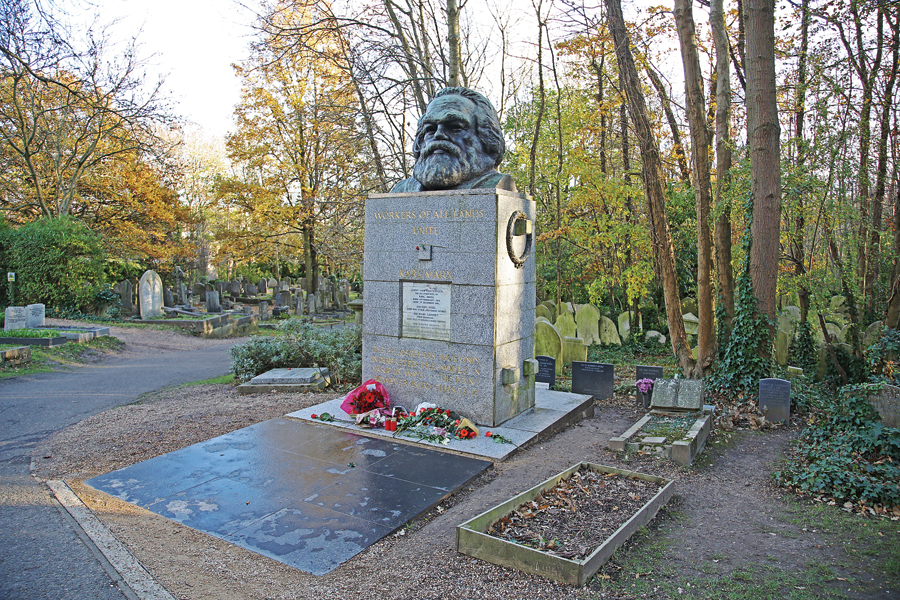 Fresh flowers and candles adorned the 2-meter-tall bronze bust of Karl Marx that stands on a marble plinth in North London's Highgate Cemetery at an event this week marking China's contribution to the landscaping of the monument commemorating the German-born philosopher.
Zhu Qin, Charge d'Affaires a.i. of the Chinese embassy in the UK, who attended the event along with representatives from the Marx Memorial Library and the Friends of Highgate Cemetery Trust, said: "By honoring the memory of Karl Marx, we seek the guidance of Marxism in upholding and developing socialism with Chinese characteristics and advancing in the direction of a communist society."
Marx, who was born on May 5, 1818, is well known for works including The Communist Manifesto and Das Kapital and his writings formed the basis of modern international communism. He was buried on March 17, 1883, in his wife's grave on a small sidepath at a simple ceremony attended by only by 11 people.
His grave was moved to its present location in 1954 and, two years later, the bust of Marx was erected on top of a rectangular marble pedestal with gilded lettering.
Chinese government recently funded the re-landscaping of the area in front of the monument, which had been of grass and gravel and which is now a square of grey granite that makes it easier for people to visit the site.
"For those who put their faith in communism and strive to pursue this ideal, Marxism is their theoretical foundation," Zhu said at the dedication. "As we build socialism with Chinese characteristics, we are at the same time pursuing the communist ideal, and we will devote our life to this lofty cause."
Ian Dungavell, chief executive of the Friends of Highgate Cemetery Trust, thanked the Chinese government for funding the work.
"Before that, it was muddy, it was irregular, and it was not dignified, so it was not suited to the important person that Karl Marx is," he said. "We've been grateful for the support of the Chinese government to help us improve the setting of the monument here."
Highgate Cemetery has become an increasingly popular tourist attraction in the United Kingdom capital, with most visitors coming from China, Germany, Eastern Europe, and Britain.
"More and more Chinese are coming to visit," Dungavell said. "That will be, surely, a result of socialism with Chinese characteristics, because they have the prosperity now to be able to travel abroad and to come to pay their respects to Karl Marx."
The Chinese government also gifted several relevant books to the Marx Memorial Library at the event.
John Foster, secretary of Marx Memorial Library's education committee, said the books outline what China is doing and the experience of Chinese people in building socialism with Chinese characteristics.
Foster said, according to Russian communist revolutionary Vladimir Lenin, "Marxism is the summing up of the experience of the working class in its struggle for socialism. It is not something dead, it is not a dogma, it is something that draws on the real living experience of people fighting for a better life".
He said that makes it relevant in today's China.
"Where it is building socialism but also trying to build a world that is safe for people, and we are very proud at Marx Memorial Library to receive the books that give that living experience," he said.
This year is the 200th anniversary of the birth of Karl Marx and China marked the occasion in May by presenting a bronze statue of Marx to the authorities in his birthplace, Trier in Germany.