Lhasa - a travel dream fulfilled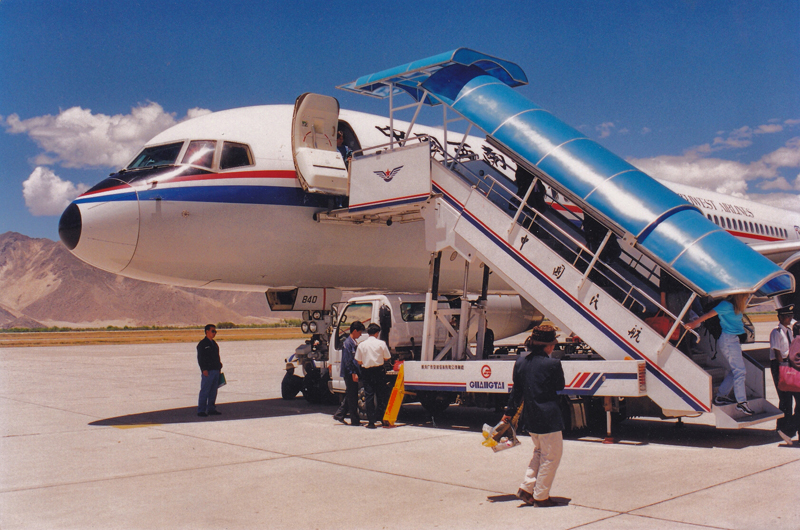 Throughout my Scottish schooldays exotic travel seemed just a dream. Inspiration, mainly derived from monochrome photography, was mostly gleaned from pages of geographical magazines. Some really inspiring images were of a small city, so different, then seemingly in a time-warp literally on the "Roof of the World". Maybe because they were monochrome, I kept looking again and again at its amazing Potala Palace rising on a rocky hill above Lhasa, capital of Tibet. Inspiring yes, but it felt impossible for in my childhood such travel ambitions were out-of-reach both financially and through practicalities. Too often there were simply no feasible transport options. Infrastructure was not there to facilitate ease of access for all but the most adventurous of travelers. Those days are now long gone. Cities such as Lhasa are today conveniently accessible by air and rail although road journeys, even on the much improved highways, remain lengthy.
In 1997 I travelled along the then "Tibet Railway" to its railhead at Golmud in Qinghai. Walking to the edge of that high-plateau city, standing on what was the highway to Lhasa, I wondered if my schoolboy dreams would ever be accomplished? Three years later, in June 2000, it had materialized! I was in Xining, Qinghai's capital, about to board a Boeing 757 that would follow one of the world's highest air routes, to Lhasa.
Transfixed, for several hours, I looked down on an almost uninhabited scene of high-altitude deserts, salt beds and snow mountains. This was a landscape pushed up to such altitudes by the massive tectonic forces that had created the Himalayan mountain ranges. Indeed a week later, approaching the world's highest peak, Mount Everest (Qomolangma), I was presented with fossilized remains of sea creatures widely found in that area which in ancient times had formed the sea bed.
Most Viewed in 24 Hours
China stories