Artist offers a hopeful message for post-industrial hometown
Share - WeChat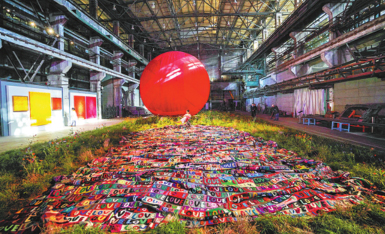 "When I was 17, I left my hometown of Shenyang, because I felt my dream was not to be found there," sang Ai Jing in her song My 1997, a popular album that propelled her to fame when she was 24. However, the singer-turned-artist has found herself back in her hometown after living in different cities around the world.
Ai's solo exhibition, My Mom and My Hometown, opened on Oct 27 at a spacious workshop in a factory in Shenyang, capital of Liaoning province. Running through Jan 27, it features art in various media including installations, sculptures, photos and videos, many of which were created especially for the show.
Unlike her previous exhibition, which was held at such august institutions as the National Museum of China in Beijing and the Ambrose Museum in Milan, Ai wanted to hold her solo show in a real factory, echoing her hometown's history-Shenyang houses many State-and privately-owned factories manufacturing machinery, chemicals, pharmaceutical products and military equipment, making it one of the most important industrial cities in China.
The workshop, replete with huge rustic machines, are part of Shenyang Foundry, which was transformed into China Industrial Museum. Ai changed the workshop into a dream world she imagined based on her childhood memory-the venue evokes a special familiarity in Ai because she used to play in the factory where her father worked.
Zhu Qingsheng, an art critic and curator of the show, says that the exhibition is Ai's way to use her memory of the old days to discuss a modern problem facing the whole region: how to rejuvenate industrial cities like Shenyang as people embrace the era of information and technology.
"It's not just a problem for Shenyang. It's a common one facing all the industrial cities across the world," says Zhu.
He says the dream world the artist created to restore the glory days of the factory era can help to rebuild people's confidence.