Fires' devastation scars survivors, landscape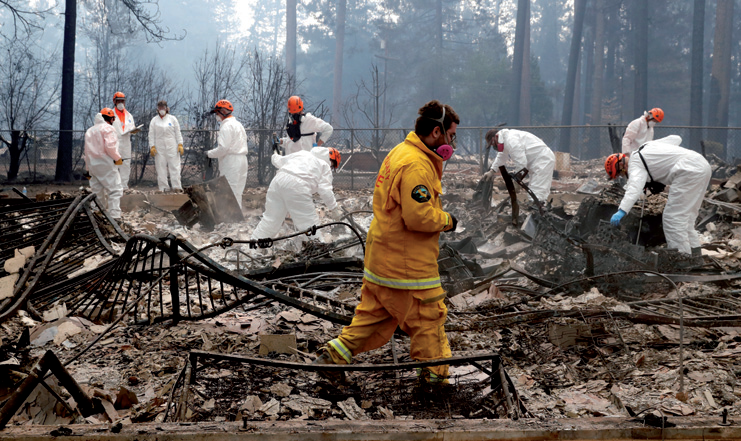 With the wounds of last year's devastating fires still raw, two catastrophic fires in California have claimed 44 lives and counting.
The Camp Fire, which started Thursday night in Butte County, Northern California, has claimed the lives of at least 42 people, with 100 missing as of Tuesday.
The deadliest fire in the state's history also destroyed 6,522 residences and 260 commercial structures, making it also the most destructive fire ever.
Since Thursday, the smoke from the Camp Fire has obscured the skyline of San Francisco, about 170 miles south of the fire site. The smoke also has blanketed the Bay Area, as the sun appears orange against the gray sky.
The air quality authority in the region has issued an alert. Occasionally, pedestrians with face masks can be seen walking on streets.
"I haven't seen anything like this before. It looks like evening, even though it's the middle of the day," said Jeff Ng, who has lived in the Bay Area for more than 40 years.
Ng said he remembered three devastating wildfires in Northern California — one in the 1980s, another last year and the current one.
"There's a complete lack of rain. Usually in November, we have rains. But this year, it's bone dry," he said. "I think it's definitely a result of climate change. The weather pattern has changed in the past few years."
The cause of the fire is unknown, but authorities said strong winds, little rainfall and dry grounds and vegetation contributed.
The air quality is the least of concerns for Linda Chen, a resident of Cupertino, California, who has friends in Paradise, the most stricken area.
The town had a population of 27,000, many of them retirees, before it was devastated by the fire.
"It's very sad to know the whole town was destroyed, and people are suffering. Everything they wear, is everything they have. They don't know what to do next," said Chen, who lived in Chico over 20 years ago. Her house was only a 15-minute drive from Paradise.
One of her friends, whom she called Shirley, is living in a hotel in Chico. Her home was not damaged, but the houses on either side of hers were destroyed, and her brother's trailer that was parked next to her house was burned.
More than 5,000 fire personnel are still battling the Camp Fire that has burnt 125,000 acres. As of Tuesday, 30 percent of the fire had been contained, according to Cal Fire.
But many risks and hazards, along with steep terrain in some areas, will impede firefighting efforts. Authorities expect full containment by Nov 30.
In Southern California, another deadly fire west of Los Angeles had blazed through more than 96,000 acres. The Woolsey Fire has killed two people and destroyed 435 structures. The fire is 35 percent under control.
As photos of destroyed homes and damaged cars continue to surface on social media, people are sharing photos of missing family members and expressing prayers for their safety and for that of firefighters.
Some Facebook groups were set up to help reunite animals by showing pictures of those lost and found.
"It hurts to watch the terrible news. It hurts more to go through the loss," said Chen, a fire survivor herself.
"It's not the loss of house, clothes or other material things. It's the loss of safety net, the feeling that a catastrophic event happened to your life. It's gonna shake for a long time," she said.
She said that as soon as she learned the news on Thursday night, she's been reaching out to her friends in the area.
Contact the writer at liazhu@chinadailyusa.com