8 killed in fresh flare-up in Gaza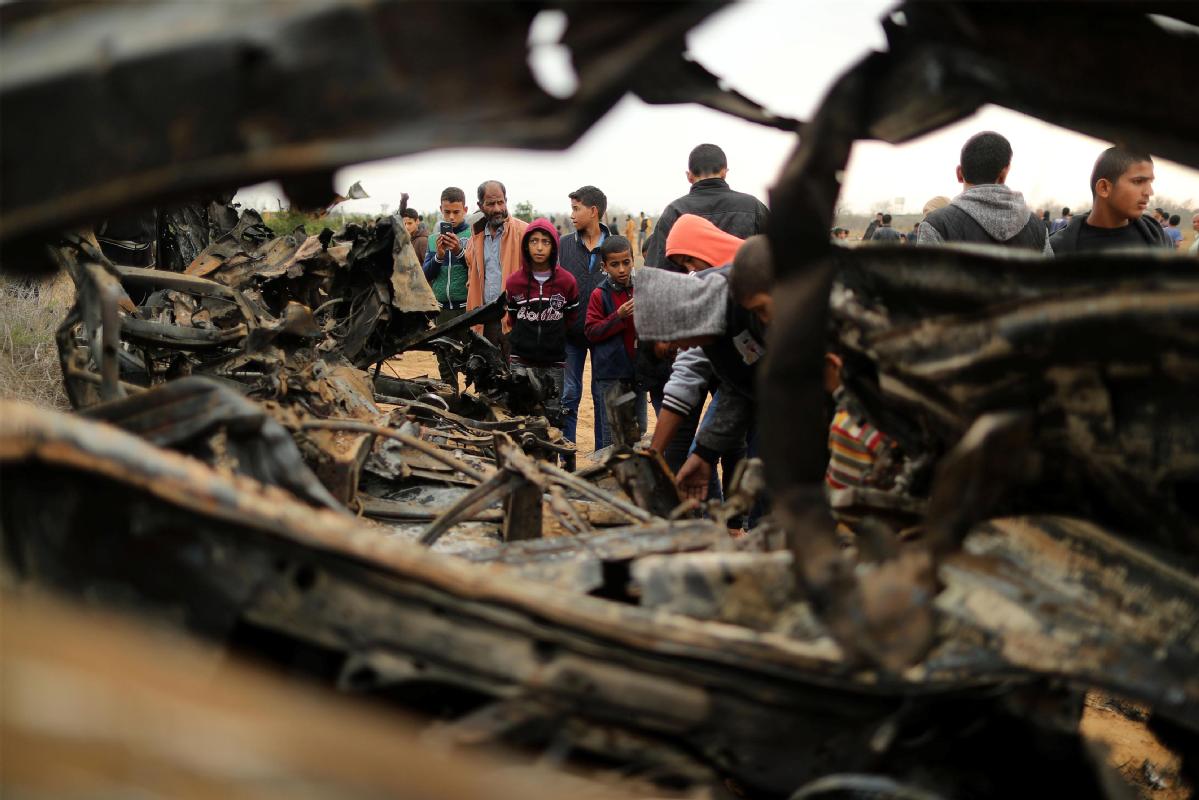 Violence may dash hopes that recent deal would restore calm
GAZA CITY, Palestinian Territories - An exchange of fire erupted during an Israeli military operation in the Gaza Strip on Sunday, killing seven Palestinians and an Israeli soldier, officials said, while potentially dashing hopes that a recent agreement would restore calm.
As tensions rose following the clash, Israeli Prime Minister Benjamin Netanyahu's office said he would cut short his trip to Paris, where he had been attending World War I commemorations, and return home.
Fawzi Barhoum, a spokesman for Hamas, the movement that runs the blockaded Gaza Strip, denounced a "cowardly Israeli attack".
Palestinian security sources said the clash included Israeli airstrikes.
After the clash erupted, sirens were reported in southern Israel indicating possible rocket fire from the Gaza Strip.
Ten launches from Gaza toward Israel were identified and two were intercepted by Israeli missiles, the army said. It was not immediately clear where the others had landed.
Details were still emerging of the incident that Palestinian officials said occurred east of Khan Yunis in the southern Gaza Strip.
The Palestinian Health Ministry said six people, including at least five militants, were killed and seven others wounded. In the early hours, a seventh body was found.
Israel's army confirmed one soldier was killed and another was injured.
Hamas's armed wing alleged in a statement that an Israeli special forces team infiltrated near Khan Yunis in a civilian car. Israel's military had not confirmed those details nor described what type of operation it carried out.
A ground operation inside the Gaza Strip would be rare and likely significantly boost tensions.
Israeli Defense Minister Avigdor Lieberman held security consultations at military headquarters, his office said.
'Protection money'
The clash came after months of deadly unrest along the Gaza-Israel border had appeared to be calming.
Recent weeks have seen Israeli decisions to allow Qatar to provide the Gaza Strip with millions of dollars in aid for salaries as well as fuel to help ease an electricity crisis.
Netanyahu had earlier defended his decision to allow Qatar to transfer the cash to Gaza despite criticism from within his own government over the move, saying he wanted to avoid a war if it wasn't necessary. "I'm doing what I can, in coordination with the security establishment, to return quiet to the southern communities, but also to prevent a humanitarian crisis," Netanyahu said on Saturday, referring to Israeli towns near the Gaza border and deteriorating conditions in the enclave.
Naftali Bennett, Netanyahu's education minister and right-wing rival, compared the cash flow to "protection money" paid to criminals.
Israel and Palestinian militants in Gaza have fought three wars since 2008, and recent months of unrest have raised fears of a fourth.
Deadly clashes have accompanied major protests along the Gaza-Israel border that began on March 30.
At least 227 Palestinians have been killed by Israeli fire, the majority shot during protests and clashes, since the demonstrations began, while others died in tank fire or airstrikes.
Two Israeli soldiers have been killed in that time.
On Friday, Palestinian civil servants began receiving payments after months of sporadic salary disbursements in cash-strapped Gaza, with $15 million delivered into the enclave through Israel in suitcases by Qatar.
A total of $90 million is to be distributed in six monthly installments, Gaza authorities said, primarily to cover salaries of officials working for Hamas.
Qatar has also said it would hand out $100 to each of 50,000 poor families, as well as larger sums to Palestinians wounded in clashes along the Gaza-Israel border.
The Gulf emirate has also started buying additional fuel for Gaza's sole power station, allowing outages to be reduced to their lowest level in years.
AFP-AP-XINHUA